Association Excellence Awards shortlist
The categories in which APM has been shortlisted are:
Overall Best Association – over 1000 members
Best Association Conference – under 500 attendees for APM National Conference for Women in Project Management 2017
Best Association Conference – over 500 attendees for APM Project Management Conference 2018
The winners of the 16 categories (plus bronze and silver awards) will be revealed at the 2018 Association Excellence Awards ceremony which will take place on Friday 12th October in London.
Sara Drake, APM chief executive, commented: "This comes after another incredibly busy and successful year for APM and being shortlisted in these categories is great recognition for everyone's hard work. It is a fantastic achievement to be shortlisted in so many categories and we can't wait to find out if we are winners in October."
Founded in 2014, these awards have gone from strength to strength, recognising and rewarding the hard-won achievements of UK trade bodies, professionals membership organisations and associations. APM is proud that two of it's conferences - both the APM Project Management Conference, and the WiPM conference, have been recognised.
APM won Best Overall Association in 2015 and this will be the fourth year running that APM have been named in the shortlist for this category.
In 2017 APM's Project journal was awarded top prize. Project,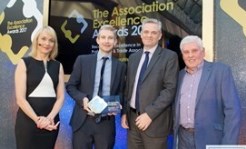 which relaunched as a quarterly journal in 2015, was named 'Best Association Magazine or Newsletter – Over 18,500 circulation' at the ceremony in April last year.
Comments from the judges reflected the hard work and commitment to identify the key needs of Project journal readers:
 "The judges felt that Project was an excellent advancement of APM's aims as an association. It met a clear business need to regain readers and advertisers and very successfully addressed this - improving member engagement, increasing readership, reducing costs, gaining excellent member feedback and improving the quality of content and information provided. A fantastic entry!"