APM wins Best Association and Best London Conference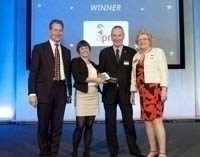 The Association for Project Management (APM) won two awards at the inaugural Association Excellence Awards including Best UK Association.
APM was also presented with the Best Association Conference in London by ceremony host The Right Honourable Michael Portillo at the QEII Centre on Friday.
To be named as Best UK Association is recognition for everything APM has achieved in recent times under former chief executive Andrew Bragg, who stood down from the role after 10 years at the end of 2014.
The impressive list of record-breaking achievements includes membership reaching an all-time high of 21,150 individual and 547 corporate members. APM also saw a record 14,400 candidates sit qualifications last year and became the first ever professional body to achieve the Investors in Volunteers accreditation.
An increase in revenue to an all-time high of £7.5m also highlights the growth across all areas of the charity as APM saw a record-breaking turnout in its board elections.
APM president Tom Taylor collected the Best UK Association Award and said: "It is difficult to find the words to express the pride and pleasure that I felt when presented with the Best Association Award 2015 on Friday.
"Smiling seems to be my permanent expression. For me such an award recognises the many activities, overall achievements and collective professionalism of our membership association.
I wish to convey congratulations to everyone who has been involved, influential and supportive over the years in achieving this accolade, recognition and trophy – well done, thank you and onwards."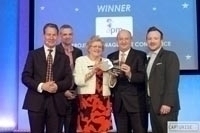 This remarkable end to 2014/15 also includes the APM Project Management Conference being named as the Best Association Conference in London. The award was in recognition of the New Frontiers event held in 2014.
This award comes just weeks ahead of this year's return of the APM Conference on Thursday 19th March, which looks at Myth Busting. There is still time to book your place to see for yourself why it is an award-winning event.
APM Conference chairman Mary McKinlay puts the event's success down to teamwork: "The APM Conference last year was an excellent event, the feedback from the audience and speakers alike was tremendous and I was very happy for the whole team who had put so much effort into creating it.
"I am just overjoyed that our conference has been given this award. Recognition from the distinguished panel of judges in the face of great competition is wonderful. This was a team effort and my thanks go to them all for their achievement."
Organised by the Global Conference Network, the Association Excellence Awards welcomed association professionals to celebrate the success of individuals, teams, and initiatives, which strive towards excellence in serving members of professional and trade associations.
The winners were selected by a judging panel of over 25 chief executives of leading associations who saw an extremely high number and calibre of entries. APM was shortlisted in a total of four categories.
After taking up her role last week, new APM chief executive Sara Drake said: "These awards are a great recognition of the collective work of the APM community – staff, volunteers, trustees and members – in delivering our Strategy 2020 as we move towards our vision of creating a world in which all projects succeed.
"It is excellent news that APM has been named Best UK Association and is confirmation of our success in delivering benefit to our members, the project management profession and the public."


Top photo, pictured left to right: Michael Portillo; Alessandra Porta, The Hurlingham Club; Tom Taylor, APM president; Mary McKinlay, APM Conference chairman and head of awards 2014.
Bottom photo, pictured left to right: Michael Portillo; Scott Walkinshaw, APM head of marketing; Mary McKinlay, APM Conference chairman and head of awards 2014; Mark Taylor, QEII Centre; Dayner Proudfoot; APM PR, brand and communications manager.