Developing Compelling Business Cases a product and a process Webinar
There's an increasing requirement, across both the public and private sector, to ensure that investment decisions are based on sound reasoning and with clear spending objectives. That's where business cases can help. This webinar went back to basics to understand why business cases are important and to identify the fundamental principles that guide effective business case development.
In search of answers the APM Benefits Management SIG invited Stefan Sanchez and Jos van Rosen, two business case experts with extensive experience in the public and private sectors, to take the hot seat.
The webinar started with a simple, but essential, question… 'why are business cases important?' Jos helped us to understand business cases as a 'framework for a problem that needs solving' and a way of identifying potential solutions. Further, when it comes to implementation, the business case can provide a 'baseline' for extracting the value. This is important when so many projects overspend and under-deliver. Stefan views business cases as a way of 'optimising value for money' to get the biggest 'bang for your buck'.
Both speakers highlighted the importance of the process of developing a business case, describing it as a 'thinking process'.
The next question tried to unpick 'what is meant by value for money (VfM)' and Stefan provided an overview of a typical categorisation of benefits: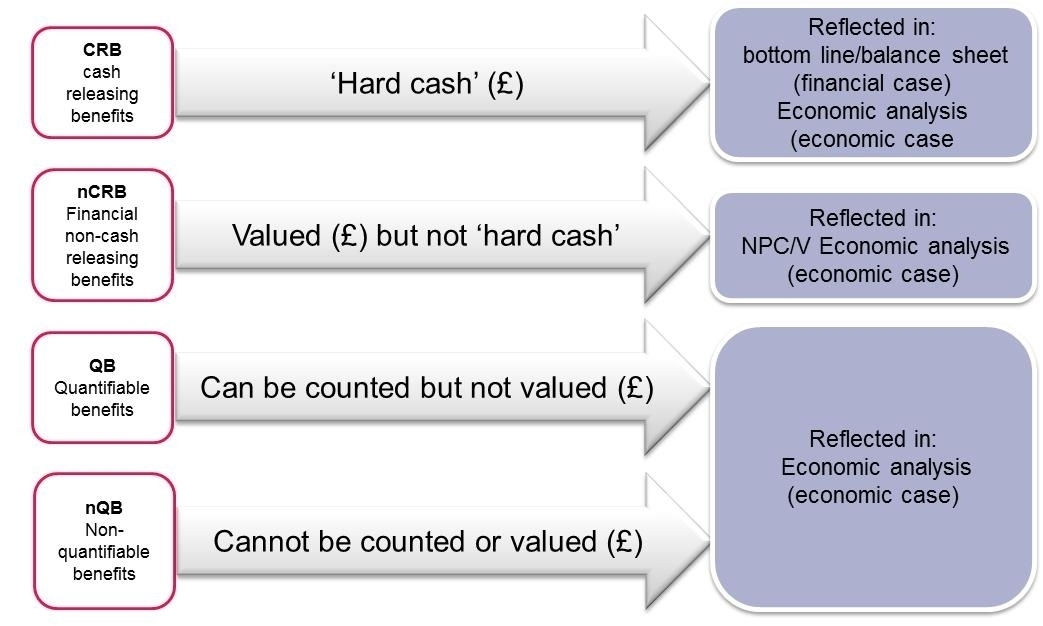 Jos provided insight into what VfM means in the private sector, where there is a perhaps a bigger focus on what he described as 'cashable' benefits (i.e. those that can be valued in monetary terms – CRBs and nCRBs in the diagram above). A big part of achieving VfM is working out what to spend your money on – and this involves understanding the problem correctly. The business case process can help you to do this.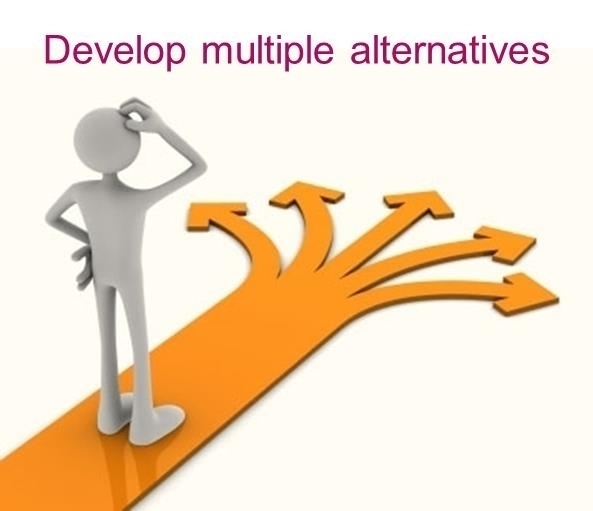 When asked 'what principles are applied to the development of business cases in the private sector', we were reminded that business cases should not be a sales brochure. Rather, they should be an objective assessment of the situation and potential alternative solutions. Jos explained that the odds of success are six times better when just two genuine alternatives are looked at. Just spending a little bit of time looking at alternative ways to solve the problem can make a really big difference.
The discussion then moved onto the Five Case Model – the approach to public sector business cases in the UK. This is a standardised, iterative approach to developing business cases which looks at the strategic, economic, commercial, financial and management case for the proposal.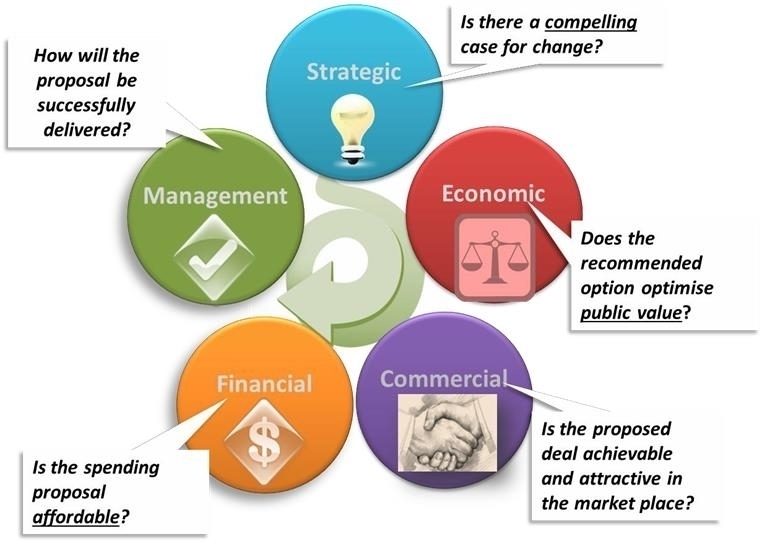 It was agreed that this can also work for private sector investments as its strength lies in providing a logical approach to analysing options to arrive at the solution that best balances benefit, cost and risk.
Teamwork and stakeholder engagement was also identified as being critical to developing a successful business case. Reaching out to wider stakeholders is essential in order to form a 'holistic' view of the problem. By working collaboratively, assumptions and assertions can be challenged, ultimately contributing to a more compelling case.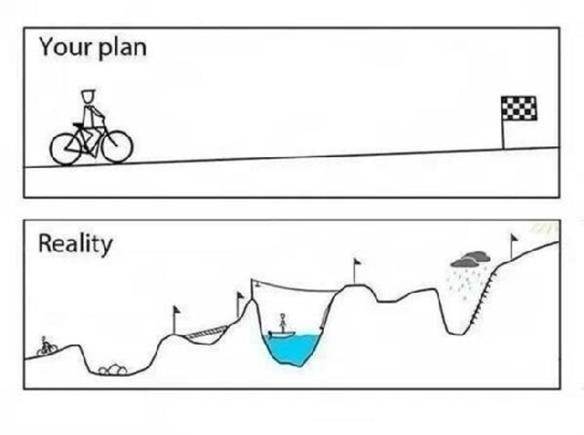 Jos encouraged us to look to the past, to learn from other projects, as well as looking to the future to consider uncertainties. We all know that projects rarely go to plan. By thinking beyond approval of the business case, the potential risks to the project can be better identified and managed.
To sharpen the mind, Jos stated that the ultimate test is whether the project team are prepared to back their pension fund on a project!
Audience questions included 'how do you develop a business case for personal training?' The response was to think about proportionality: if you're asked to develop a business case for a small amount, keep it concise but still focus on addressing the important questions (the 'five cases' being a useful structure to use).
Another question was: 'how do you ensure lessons are learned and implemented effectively within organisations?' Jos warned against leaving them in a drawer and suggested developing a repository for the information. For the lessons to be transferable they need to be sufficiently generic to share widely within the organisation. Stefan reminded us to look wider than our organisation and see what has happened elsewhere: the chances are that somebody has already done something similar before. The National Audit Office website is a useful source. Another useful link is the Said Business School who have undertaken research into projects which fail, and the lessons which can be learnt.
Responses to the questions which we were unable to cover are in the attached.
Hopefully this session was useful in starting to think about business cases in a different way, and maybe these topics indicate areas for future sessions - as we all strive to make our business cases more compelling.
Join us at the Benefits Summit on 23rd June for further lively discussion on the subject.
Anna Lay
Benefits Lead - Summary Care Record Programme