Inspiring positive change
Association for Project Management (APM) has today launched its strategy that reflects its new status as the Chartered body for the project profession.
View the Inspiring positive change - APM strategy here.

The Inspiring positive change – APM strategy mirrors the changing demands from a profession which operates in a complex and dynamic world – one that calls for a more adaptive project management approach to deliver positive, effective change across all sectors and to all stakeholders.

APM's refreshed strategy aims to bolster and engage with all those who deliver projects to build a community of competent professionals who are confident in delivering project success, regardless of role or industry.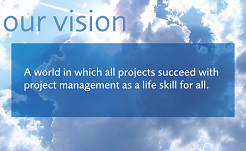 Our vision
A world in which all projects succeed with project management as a life skill for all. 
Our mission
Inspiring communities to deliver meaningful change for societal benefit by advancing the art, science, theory and practice of project management.

Awarded to APM in April 2017, the Royal Charter is an internationally recognised mark of quality providing the profession with a platform to raise awareness of the skills, improve standards and develop the practice for the benefit of all.

This transformation is a significant milestone in the history of the profession and enhances the status and recognition of project management as a means of delivering effective change that improves economy and society. A central pillar in raising the standard of project, programme and portfolio delivery will be the launch of a Register of Chartered Project Professionals in spring 2018.

The register will offer to clients, employers and the public confidence of quality across the rich diversity of skills involved in project management. APM will be publishing the Chartered standard in November 2017 following a consultation over the summer.
Read more about the APM strategy, 'Inspiring positive change'
---