Operational readiness failure can destroy up to 30% of project's value
Projects risk losing 30% of their value due to ineffective operational readiness1, a new report from Deloitte reveals.
In the complex interplay between technology, infrastructure and process, it is often the 'people' side of delivering the operation that presents the greatest challenge.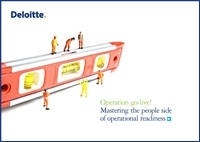 Deloitte's latest capital projects report reflects on recent success stories, such as the London 2012 Olympic and Paralympic Games, and explores mastering the people side of operational readiness.
Achieving operational readiness in capital projects is complex, high profile and a major consideration even from the early stages of a programme.
Yet traditional approaches to readiness planning often do not go far enough in addressing the human factor so critical to go-live success.
Tim Parr, Partner, Infrastructure & Capital Projects at Deloitte said: "For many programme directors, a comprehensive approach that builds and evidences their organisations' readiness offers real value as they prepare for day one.
"Programmes that embed operational readiness from the outset typically identify risks earlier, mitigate design issues when they are less costly to resolve and build highly capable teams."
While a number of industries do focus on operational readiness, few can claim to have mastered managing the human factor, with people by far the most challenging and least predictable component in delivering a complex operation.
Download: Operation go-live! Mastering the people side of operational readines
1Deloitte (2012) "Effective Operational Readiness of Large Mining Capital Projects - Avoiding value leakage in the transition from project execution into operations".