Project management community pay tribute to Eric Gabriel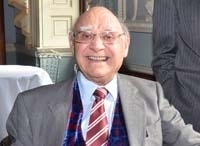 A man who made a major contribution to the development and professionalism of project management at home and abroad, Eric Gabriel, has died at the age of 88.
A former chairman of APM and past president of IPMA, he brought cross-sector knowledge and experience to the profession, together with a deal of common sense.
Leading the tributes, APM president Tom Taylor said: "Eric was an example to us all. He saw the future in project management and was a very high profile practitioner.
"He had a distinguished career and after I had met him I realised that, more importantly, he was a distinguished person – and a person of some distinction."
Added previous president, Dr. Martin Barnes CBE: "Eric was a towering figure in the creation and development of the applied science of project management.
"He was always very popular. The committee meetings he chaired were purposeful and also fun. He seemed to be smiling all the time and will be remembered fondly and admiringly by all who met or knew him – in any context."
After graduating in mechanical engineering from Leeds University, Eric worked in the construction industry. He was chief commissioning engineer for the Nuclear Power Group during the building of Britain's first nuclear power stations and moved on to become cost and planning manager for engineering company Foster Wheeler.
At an age when many would have been looking forward to retirement, Eric was appointed client project manager for the construction of the Sainsbury Wing at the National Gallery and for the rebuilding of Glyndebourne opera house.
A long-term supporter of APM, he played an active and influential role from its inception in 1972. As chairman from 1982-86 he steered the association through a time of consolidation, change and growth.
Under his leadership, the first professional standards and code of practice were established and a clear list of objectives for APM was set out to develop both the association and profession.
He later served on the membership committee and was one of the group that developed the rigorous criteria for APM Fellowship. Working with him was Mary McKinlay, who was originally inspired by Eric to join APM and to become involved with IPMA.
"Eric came to talk to a project management course at Marconi's management college on rebuilding Glyndebourne opera house. It was absolutely fascinating," said Mary, a Fellow of APM, former council and board member and currently a vice-president of IPMA.
"I was already excited by what I did but this gave me a different perspective. I thought there must be more people like him at APM so I joined – and persuaded Marconi to join, too.
"He was a very measured and thoughtful person and you could count on him to step back from a discussion, weigh up and review what was said and come up with the sensible solution."
He brought these same qualities to the practical aspect of running the association, including moving the headquarters to new offices in West Wycombe Road, High Wycombe.
Recalls Honorary Fellow David Shannon: "Eric was a tower of strength. He demonstrated tight control and his usual strong commitment, managing minor modifications in response to our changing requirements and dealing diplomatically with the sometimes conflicting demands from different APM factions."
Eric also became a valued member of IPMA after joining as a council member in 1979. He served as president from 1985-88, was chairman of the Council of Delegates from 1988-91 and was elected an Honorary Fellow.
His keynote paper 'Management by Projects – The New Management' that he presented at an IPMA Expert Seminar in April 1989 is still regarded as worth reading today.
"From his practical background, IPMA got an excellent basis for its development," said long-time IPMA colleague, Hans Knoepfel. "We very much appreciated his substantial contributions and his beautiful nature."
Eric was made an Honorary Fellow of APM in 2001 in recognition of his outstanding service. Other honours included Freedom of the City of London and Fellowship of the Royal Society of Arts.
APM extends deepest sympathies to Eric's son, David, daughter-in-law, Ann, two grandchildren, Linda and Julie, and the wider family. His wife, Jean, died in 2007.
Please feel free to leave your own memories and tributes below.