Put sustainability on the agenda
The 2015 Paris Agreement of the UN Framework Convention on Climate Change recognises that "Climate change represents an urgent and potentially irreversible threat to human societies and the planet and thus requires the widest possible cooperation by all countries." The agreement delivers a call to action to civil society, the private sector, financial institutions, cities, subnational authorities, local communities and indigenous people. In short, the message is: act now!
So, fellow project professionals, there's our permission to go full throttle on sustainability, right? Well, in practice, it's not so simple. We act in complex project environments with numerous stakeholders and project restraints that require us to continually consider factors such as time, effort, quality, risk and benefits. So how much room does this leave for sustainability?
Considering sustainability and changing our current way of living depends largely on the individual behaviour of the people involved. That includes us. So what factors come into play when project managers consider starting (or staying away from) the discussion about integrating sustainability into projects?
Behavioural model
This question can be answered in part by taking a model that explains human behaviour in general and adapting it to a specific context. Social scientist Icek Ajzen developed the theory of planned behaviour, a widely used model and the most influential in its field (Regis, 1990). It can help explain the considerations of a project manager with regard to sustainability. The model consists of three elements that together create the intention to behave in a certain way (Figure 1). The theory states that, when a strong enough intention exists, eventually, given the opportunity, a person will act on intentions (Ajzen, 1991).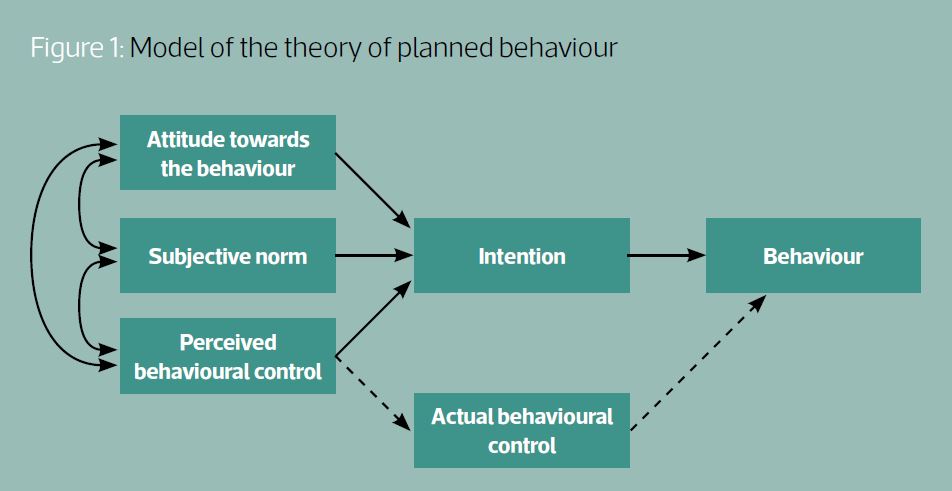 The first element is attitude, or what one believes about the favourable or unfavourable evaluations of the behaviour in question. Put differently: what are the risks and benefits of integrating sustainability into the project? Will the outcome of the behaviour be desirable, and will it justify the efforts and risk?
The second concept is the subjective norm. It is driven by the perceived social pressure of significant others (including, for example, project stakeholders) and their (dis)approval of bringing sustainability into the project. Your own values and ethics are part of the subjective norm too.
The third element is perceived behavioural control. This is the control you think you have over displaying a behaviour. This breaks down to internal factors (information, skills, ability, emotions and compulsions) and external factors (opportunity, resources and dependence on others).
When strong and inclusive enough, the three components lead to the intention to display the desired behaviour. As a general rule, the more favourable the attitude, subjective norm and perceived behavioural control, the stronger a person's intention to perform the behaviour in question. People will carry out intentions when the opportunity arises, given a sufficient degree of actual control over the behaviour (Ajzen, 1991).
When relating this model to the specific situation of a project manager in a project environment, the questions arise: what specific factors can we attach to these elements of attitude, subjective norm and perceived behavioural control? And is their impact positive or negative?
Project managers' attitudes
Project managers, just like project team members or sponsors, have their own personal attitudes towards sustainability that may influence their intention to address these issues in the work environment. Another factor is the influence of non-governmental organisations and environmental groups that are raising public awareness of unsustainable business practices.
A better-informed employee will often be more critical about formal corporate communication on sustainability efforts. In a recent study, environmental website GreenBiz found that a majority (58 per cent) of corporate employees experience a gap between what a company says about social and environmental responsibility and how it actually behaves. This may also influence the intention to address sustainability.
For a project manager, implementing sustainability presents both risks and opportunities in terms of project success, personal reputation, cost impact and scope increases. However, further research is needed to investigate the extent to which this can explain and predict a project manager's behaviour. Personal ethics and values might prove to be a more decisive factor than has been assumed until now.
The subjective norm
The social pressure of others, perceived by a project manager, is the subjective norm that influences behaviour. This subjective norm can be perceived as positive, stimulating discussion of sustainability issues, or as negative, hindering such discussion, depending on significant others' opinions of sustainability.
The first significant other a project manager may be influenced by is the project sponsor or executive. An increasing number of corporations include sustainability statements in their corporate communications and business strategies. Linking the project to this strategy is logically the objective and business case of the project.
Other stakeholders – authorities, interest groups and the general public – may influence the subjective norm. A relatively new group in this respect is project management professional associations, such as APM, the International Project Management Association (IPMA) and the Project Management Institute. Some of the codes of ethics and professional conduct published by these organisations include statements on sustainability.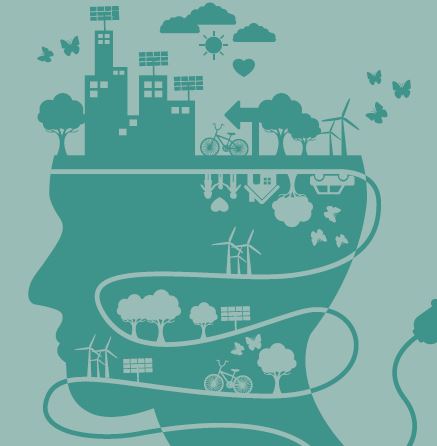 Perceived behavioural control
A project manager may not feel in a position to influence the sustainability quality of a project. Indeed, the project management world has been slow in developing practical tools for assessing and managing sustainability impact. Some impact-analysis, maturity-development and sustainability-management plans are available, but they are not yet integrated into the most popular professional standards. The new IPMA Competence Baseline 4 makes reference to sustainability, and will hopefully boost this development.
However, project managers should realise that they, together with the project executive, have the most influence over the sustainability aspects of a project (Goedknegt and Silvius, 2012). A project manager can proactively open the discussion about sustainability as a deliverable with stakeholders, and he or she is the lead regarding project processes.
Sustainability on the agenda?
I have outlined a framework for what stimulates a project manager's intention to address sustainability in a project, and what is holding it back. The resulting behaviour is an individual decision and cannot be generalised. But how do you experience the risks and opportunities of sustainability in your projects? And to which intended behaviour does this lead?
One of the keys to successful integration of sustainability in a project is to follow the framework in this article. Scan your environment for factors that enable or prevent you from integrating sustainability into your project, and take the pointers described above as a starting point.
---
 Marc de Graaf is a project manager at CDS, part of Hewlett Packard. Gilbert Silvius is an independent lecturer, researcher and author.