Report highlights cost of failure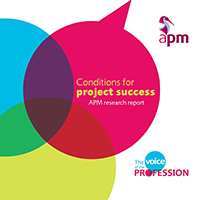 Trillions of pounds invested in projects, programmes and portfolios risk being wasted if the causes of project failure are not addressed, a major new report warns.
Research by APM into the Conditions for Project Success reveals that while the key to success is known, this practice is often not applied.
As a result, nearly 80% of projects fail to wholly meet their planned objectives.
More than 850 project professionals from across the private and public sector took part in the study, which launches at the award-winning APM Project Management Conference next week.
While the majority recognise the importance of critical success factors, such as clear goals and objectives, good governance and competent teams, they also acknowledge gaps in good practice.
Most alarmingly, only 4% rated project planning and review as excellent; while 14% said it was either poor or absent from their last project.
A further 39% felt competency levels in project teams was only moderately good, while nearly a third felt a lack of commitment to the success of the project was not clearly dealt with.
Despite this, overall success ratings were consistently high; with over 90% of survey respondents reporting that their recent project had been successful to some degree. Only 6% considered their project a complete failure.
APM research manager Daniel Nicholls said: "While the headline reading is largely positive, a look beneath the surface reveals a number of issues that impact on the success of the project.
"From basic competencies through to confidence in senior sponsors, it is clear that the conditions for project success are not as prevalent as we would like to believe, or expect. The gap between theory and practice remains a vital concern and focus for senior project executives."
The Conditions for Project Success report will be available to download on 19 March