Revealed – APM Fellows' views on the future of sustainability in projects
Some of the project profession's most senior experts shared their views on challenges and opportunities around sustainability in projects, as part of a discussion led by leading academics at the APM Fellow's Forum.
The forum, held in London on 31 October, saw Professor Graham Winch and Dr Eunice Maytorena-Sanchez from Manchester Alliance Business School lead a discussion with delegates on harmonising energy and the environment.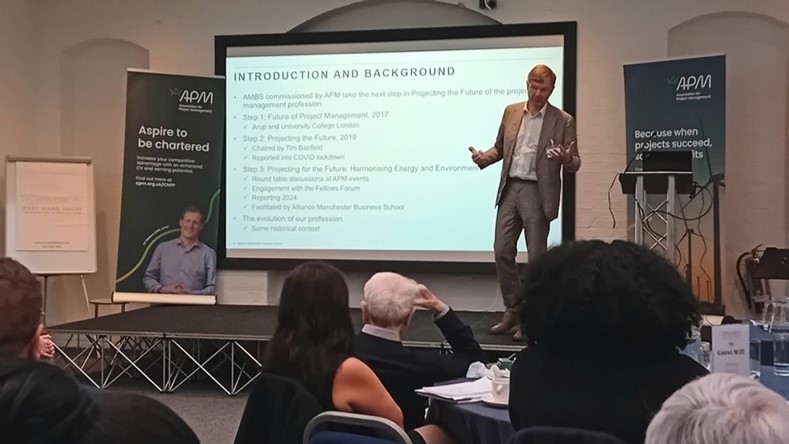 As the fourth industrial revolution (industry 4.0) progresses, the project profession is itself evolving into what has been termed 'project management 4.0'. Environmental considerations, such as reaching net zero, are central to this evolution. There is now much stronger stakeholder engagement from active citizens who are ready to question the trade-offs between environmental degradation in the present and sustainability benefits in the future. Furthermore, the digital revolution is transforming projects in terms of the technical complexity of delivery and new tools for managing that delivery. While this holds great promise, new competences and capabilities are needed to seize the opportunities.
These premises were discussed with the audience of APM Fellows, with attendees invited to share their views on key questions.
The views shared at the APM Fellows' Forum will supplement those that Professor Winch and Dr Maytorena-Sanchez have obtained from roundtables at previous APM events. The findings of their research will be published in a report in 2024, but a sample of the opinions put forward at the Fellows' Forum can be viewed here:
What are the main challenges of achieving net zero for projects in your industrial sector?
Responses included:
Distribution of green energy
Excessive focus on time and cost over delivery of benefits
The need for consistent government policy and incentives
Lack of understanding by decision-makers
Future readiness – making sure we understand the requirements for long-term future needs
What will be the distinctive contribution of the project profession to delivering the investment projects required to help address these challenges?
Responses included:
Project controls – clear planning and forecast, with a change and risk management process in place
Communication that supports behavioural nudging and behavioural shifts
Honesty in explaining the scale and difficulty of the challenge
A focus on broader stakeholder engagement
A focus on benefits realisation
What specific skills will be required from those that will shape and deliver these projects?
Responses included:
Change management
Cognitive readiness – a mindset that can respond to raid and unexpected change in context
Understanding principles of the data economy such as big data, privacy and AI
Storytelling – to mobilise people effectively and catalyse behaviour change
People management – bringing people with us on the journey
The experts' views: how APM Fellows think the profession can support project management 4.0
"We [project professionals] focus on delivering outcomes but we don't focus enough on delivering value. It all comes back to people management, communication and real stakeholder engagement. It all comes back to managing people, not herding them."
"We don't always explain things to people in ways they can understand. We need to learn to speak and to understand what we're looking at when we're looking at a project; not just looking at it from a project management perspective but understanding what the customer is trying to get out of it."
"What is our purpose? To get projects to deliver outcomes more consistently. I think there are too few people who are actually willing to be brave, speak up and challenge when it looks like things are not going as planned. We're not influencing the decision-makers in our organisations."
"A key thing for me is about project managers becoming creative thinkers…The time has come for project managers to be brave and disrupt the current thinking, and – as has already been said – to say it in ways people understand. That's how we influence."
Future Lives and Landscapes
APM's Future Lives and Landscapes campaign is helping the project profession overcome challenges and seize opportunities to meet society's needs. The campaign is bringing research, thought leadership and expert opinion to project practitioners, business leaders, decision-makers and others.
Visit the Future Lives and Landscapes page on our website to learn more about how this campaign is improving the delivery of projects for the benefit of society, now and in the future.