The importance of ethics in professional life
APM, the Chartered body for the project profession, has launched its third Chartered paper titled, "Demonstrating integrity in a complex world: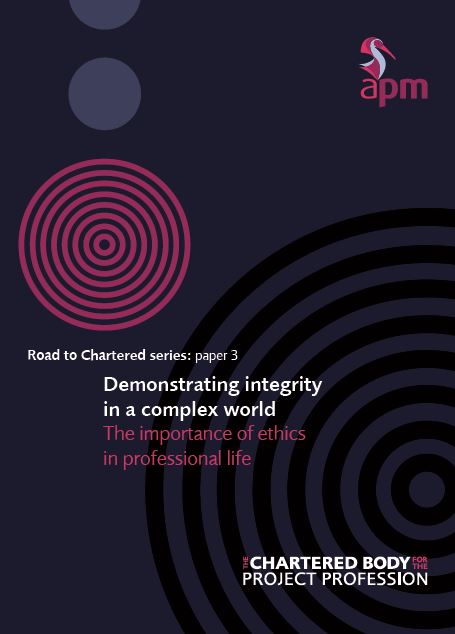 The importance of ethics in professional life". 
The paper, which was created in collaboration with the Institute of Business Ethics, explores different aspects of ethical behaviour and seeks to engage individuals across the profession to gain a better understanding of the increasing importance of ethics and integrity. To read more about ethics in our profession, please visit our ethics in project management pages.
Commenting on the paper, Simon Webley, research director at IBE said: "In this 'post-truth' era, trust is a precious commodity for both individuals and organisations. Developing ethical acumen is a key skill for any professional. By commissioning this paper, which looks at what business ethics means to project managers, APM are playing a crucial role in helping to promote trust in society by demanding high ethical standards from their members."
The paper forms part of a series of publications produced by APM as part of the launch year of Chartered status. The papers will examine and debate the key components of Chartered and the contribution we believe it will make to advancing the professionalism, and the profession, of project management.
"The papers aim to give members and other interested stakeholders a greater insight into what becoming Chartered means," said David Thomson, head of APM external affairs and a contributor to the report. "They will also help explain the transformation APM is experiencing as it evolves into a fully-fledged Chartered body."