Welcome to the Autumn edition of the APM PMO SIG newsletter
Welcome to the Autumn edition of the APM PMO SIG newsletter 2017
Welcome to the latest edition of the APM PMO SIG newsletter!
In this issue of the newsletter we want to share with you our enthusiasm for the two major highlights in the year of any PMO professional (not counting summer holidays, of course): the annual conference of your favourite SIG, coming up this month, and the celebration of the best PMOs in their class in the newly APM PMO of the Year Award. Start writing your Christmas wish list…there's plenty more to come!
If you have any comments on the newsletter or would like to contribute an article to a future edition, please contact us.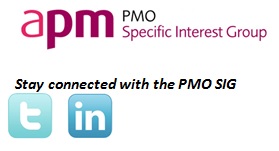 ---
A word from the PMO SIG Chair
Wow! It has been a busy couple of months for PMO SIG since we all came back from vacation…so much so we rather need another one already!
The PMO SIG Conference planning is done, our speakers are confirmed for an exceptional day bringing clarity to the dark arts of PMO. During the day, you will get the chance to really get involved with us – from developing guidance for other PMOs, sharing your #PMOWisdom, and even helping us to decide what our last webinar of the year topic should be. If you haven't booked your ticket, get it now!
In the last month, we have been invited to two breakthrough events hosted by different branches and corporates. These events saw an introduction to PMOs in Aberdeen and a talk about how to set up the most valuable PMO for your organisation in Leeds. You can see a summary of both of these events later in this newsletter.
Our tweeting pals have been busy, we are very close to the magical 4,000 followers – it seems like only yesterday we hit 3,000! This tells us that the content we are working on, the events we are involved with and our PMO conversations are valuable to you and provide some food for thought, so thanks for following!
I really hope to see you at our conference on Thursday, don't be shy – just like our webinar on networking covered: break the ice, we all have something in common… PMO! 

---
What we have been up to
The future PMO
What does the future hold for the PMO? Our friends at Wellingtone Project Management put on a show (sorry, I meant conference) last month for professionals interested in or passionate about PMOs. It really was a day to celebrate PMO, with a line-up of engaging speakers, a DeLorean, many stories and experiences to be shared, useful networking opportunities, all wrapped with plenty of fun, in the Wellingtone's way! Oh, and did I mention the DeLorean?
What you need to know about PMOs
For the first time ever, PMO SIG were invited by APM Scotland (Aberdeen chapter) to present at an evening event on 26 September, dedicated to PMO. Why? PMO is not a widely discussed topic in industry in the area. The chapter wanted to lift the fog on what a PMO is, and how it adds value.

How to succeed at conference and networking events
Ever turned up at a conference and felt like you don't know anyone else around? Ever had a networking lunch and not been sure how to break the ice with strangers?
This webinar on Tuesday 3 October gave some insights on how to get the very most out of our (and other) conferences and events you might attend to make sure you get the most value from your time with us. Didn't have the chance to attend?






APM NYL branch corporate event: Delivering and maturing PMOs
Our first corporate event at the Yorkshire and North Lincolnshire branch featured two key areas around setting up a value adding PMO, and how to deliver a step change in project management maturity through the work you PMO does.
---
 Our upcoming events
19 October, London
The PMO goes hands on - bringing clarity to the dark arts
I'm certain you are as excited as we are…is that time of the year again: the APM PMO SIG conference is here!
We took note of all the PMO challenges you reported to us last year – the difficulties of lessons learned, the usual resource management headache, project prioritization keeping you awake at night – and decided to do something about it. We've all been there (actually, some of us still are!), you are not alone. To help you with your day-to-day work, this year's conference is going to be about real PMOs. The ones that battle every day to improve, to enable projects to succeed, and to keep the big bosses happy. This year, the PMO goes hands-on!
Without further ado, ladies and gentlemen, I give you our extraordinary agenda. Which from the topics below are your pain points? Come join us and learn, from people who have been there, done that, how to take away the pain.
16 November, Webinar
Building an Effective PMO Culture
One of the key PMO challenges remains the difficulty of successfully sharing the services, progress, and value add to the wider organisation. This webinar is here to help!
During most of our PMO events, you tell us that it is extremely difficult to spread the PMO word in your wider organisation. We took this as a challenge and this webinar is the output of our PMO SIG experience, and a roundtable discussion where PMO professionals debated why it's difficult to bring a PMO culture to life, how it has worked in some organisations, and identified some tips for success.
28 November, Webinar
TOPIC TO BE ANNOUNCED
This webinar is special because the topic will be decided upon during our PMO Goes Hands On Conference by the delegates. So if you aren't able to attend you can do a deep dive on their favourite PMO dark art featured on the day. Link to follow.
7 December, London
PMOs and Organisational Change
We are joining up with the Enabling Change SIG to bring you some insights into the world of organisational change and how PMO's both affect and are affected by it.


As well as some other secret stuff for now, we are working on our annual plan for next year, continuing our #PMOWisdom series, bringing you words of wisdom from PMO people and their supporters from all over the world!
---

Marketing
LinkedIn hot topics
Been out of the LinkedIn loop recently?
Here are some of the conversations we felt would be valuable if you could give your opinions/experiences.
The PMO is dead
Marisa Silva
Our own Secretary went to speak at a conference in Norway earlier this month and was surprised to find yet another presentation about the extinction of the PMO. However, what astonished Marisa even more was the amount of feedback the post generated on LinkedIn: over 17,000 views, 80 likes, and 34 comments. Join the discussion: is the PMO really dead or have the rumours been greatly exaggerated?
The PMOBots are coming
John McIntyre
The future is coming quicker than expected and PMOBots are starting to become a reality. How cool would it be to ask your PMO robot by a status update on the project xyz and have that information in seconds, available in a pretty and colourful report? Be prepared, the future is today!
PMO Automation
Dennis Coppola
The future of PMO is automation, does this mean it is possible to replace classic PMO resources/teams with tooling and automation? How will this impact our PMO resources? Is there a future for them?
---

Social
Are you a tweeter?
We proud ourselves of being the SIG with the most Twitter followers but, recently, we have gained just another reason to be proud of: we are nearly achieving the amazing number of 4,000 followers!
Will you be the one? Follow us online and see what you could win!
---
PMO Wisdom Series
Book Review
Book: Doing it the SMART Way!  Sustainability, Bridging the Gap Between Project and Business Management
Author:  Mark Reeson and Marilyn Evans
Publisher: Amazon Kindle
Reviewer: Britta Eremit
Summary
This book provides a modern and progressive solution how innovative and successful project management in the 21st century looks like and how to put in into practice in a simple way. Whilst fulfilling the requirements of the future trends and needs of future organisational and leadership development, the SMART approach also supports and links the core universal need that makes project management, business management and human development efficient: it is all about Sustainability!  The author provides a close and empathic Step-by-Step Guidance through this new project management approach. He introduces a new model "The SMART Sustainability Tool" which provides a groundbreaking and new understanding of the BIG PICTURE regarding "Project Management in the Future". Business and project management of the 21st century need to be closely linked to each other. One cannot exist without each other. AND: the people are the true factor that make all the difference! Sustainability is not only about taking care of harmonising the use of high standard techniques and the resources, our planet provides. Sustainability starts with every individual, by developing and creating self-awareness, acquire new capabilities according to the change and project management requirements and finding the courage to live shared responsibility.
---
Events and dates for your diary
Other events we are loving right now
Major Projects Knowledge Hub
This popular networking space opens its doors to guest hosts, and for a couple of months just gone and those coming up, the guest hosts have been PMO SIG committee members..... it was a happy accident, honest!
So, get involved in the conversation, add to the blogs, and join the activities.
---
Volunteering

PMO SIG Volunteers
Want to join the SIG as a volunteer? Get in touch!

Alternatively, you can join as a member to receive news and information on PMO SIG.
Use the Link on the APM Website (you may need to login or register first) and clicking on the "Join this Group" button.