Welcome to the Spring Women in Project Management SIG Newsletter 2018
Women in Project Management SIG – Spring Newsletter 2018
N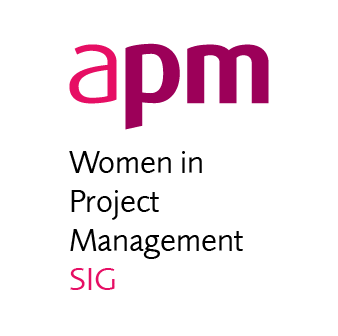 ewsletter contents
1. Welcome message
2. Events update
3. Upcoming events
4. Links we like and book reviews
5. Celebrating success
6. Follow us
7. And finally...
---
1. Welcome message

Welcome to the Spring edition of our quarterly newsletter.
The WiPM SIG committee have had a busy few months since our last newsletter. In January, we met face to face in Birmingham having travelled from all over the country. We had a very productive meeting discussing a variety of different topics including plans for International Women's Day – see section two for an update on the day's events.
We are now busy planning our attendance at the Annual APM Conference 'Future Proof' – Inspiring today's profession for tomorrow's challenges on Thursday 25 April in London and we are organising this year's edition of our own annual conference in September, more about it in section three.  The event will also be a great opportunity to celebrate WiPM SIG's 25th anniversary. Earlier this year, we also celebrated our very own committee members, Teri Okoro for being honoured for her ground-breaking research, and Hollie Woodard for being shortlisted for the Northern Power Women Awards.
Finally, if you would like to volunteer your time to support our activities and work with a group of like-minded professionals to shape the future of our profession get in touch.
---
2. Events update
WiPM SIG was involved in three different events on International Women's Day (IWD):
IWD 2018 Webinar: Push for Progress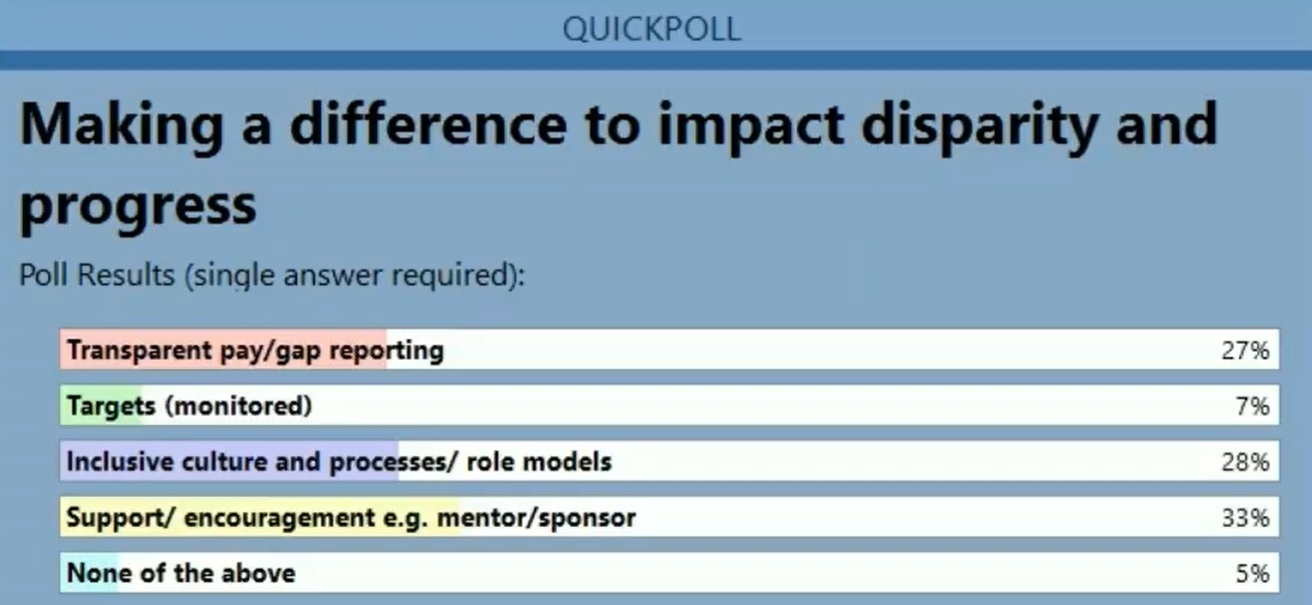 WIPM SIGs IWD 2018 webinar Push for Progress had a distinctly international flavour. Teri Okoro WIPM past Chair and CIC Diversity and Inclusion Panel member, provided an insight into the context of women PMs internationally contrasting representation in UK, Europe, USA and Africa. Common challenges were reviewed and a range of possible steps for both individuals and organisations were discussed. A poll of webinar delegates revealed that support through mentoring and sponsorship was considered most effective.
Linky van der Merwe an experienced PM shared her career journey as an IT project manager in South Africa, and her initiatives to support up and coming PMs including her "Success Stories Shared" publishing stories from experienced PMs.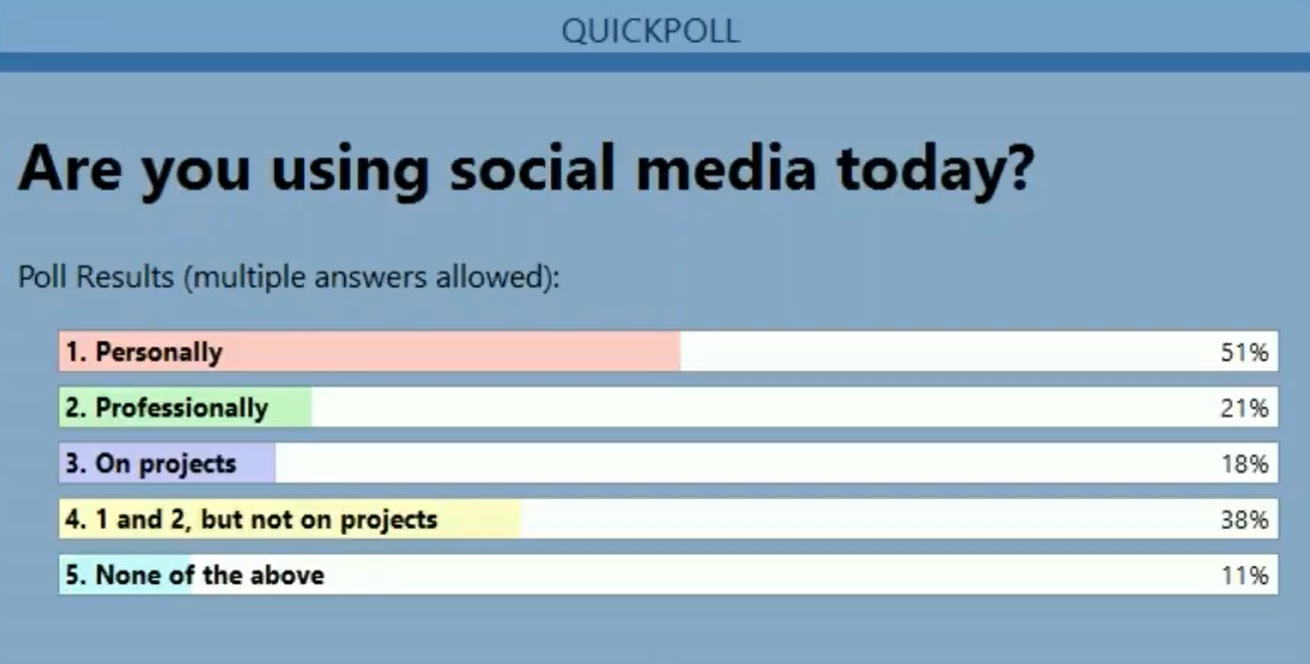 Her presentation Strategic Integration of Social Media to make it future fit for practice reviewed strategic framework, benefits and barriers. She shared findings of an international research on smartphone apps for projects, noting how quickly research data can become obsolete in this fast changing area. Key takeaways were the need to have a strategic approach that is well funded and embedded in project practice, as it allows for a greater level of formal and informal collaboration which is especially critical for dispersed teams. A poll of webinar delegates revealed social media is used primarily for personal use and not for projects.  Linky concluded with a brief overview of how to increase personal visibility on social media. There was a Q&A session to conclude. Webinar resources are available on the webinar write up news story page.


IWD London branch event -  APM 'Modern Leadership in the Virtual world' event
The speaker, Lisette Sutherland, delivered an engaging presentation with quick tips on virtual meetings and the latest technology for working successfully with virtual teams located across the world. The event was well attended and a great opportunity for attendees to engage with like-minded professionals.


IWD Cambridge event -  'You make it happen - International Women's Day celebration'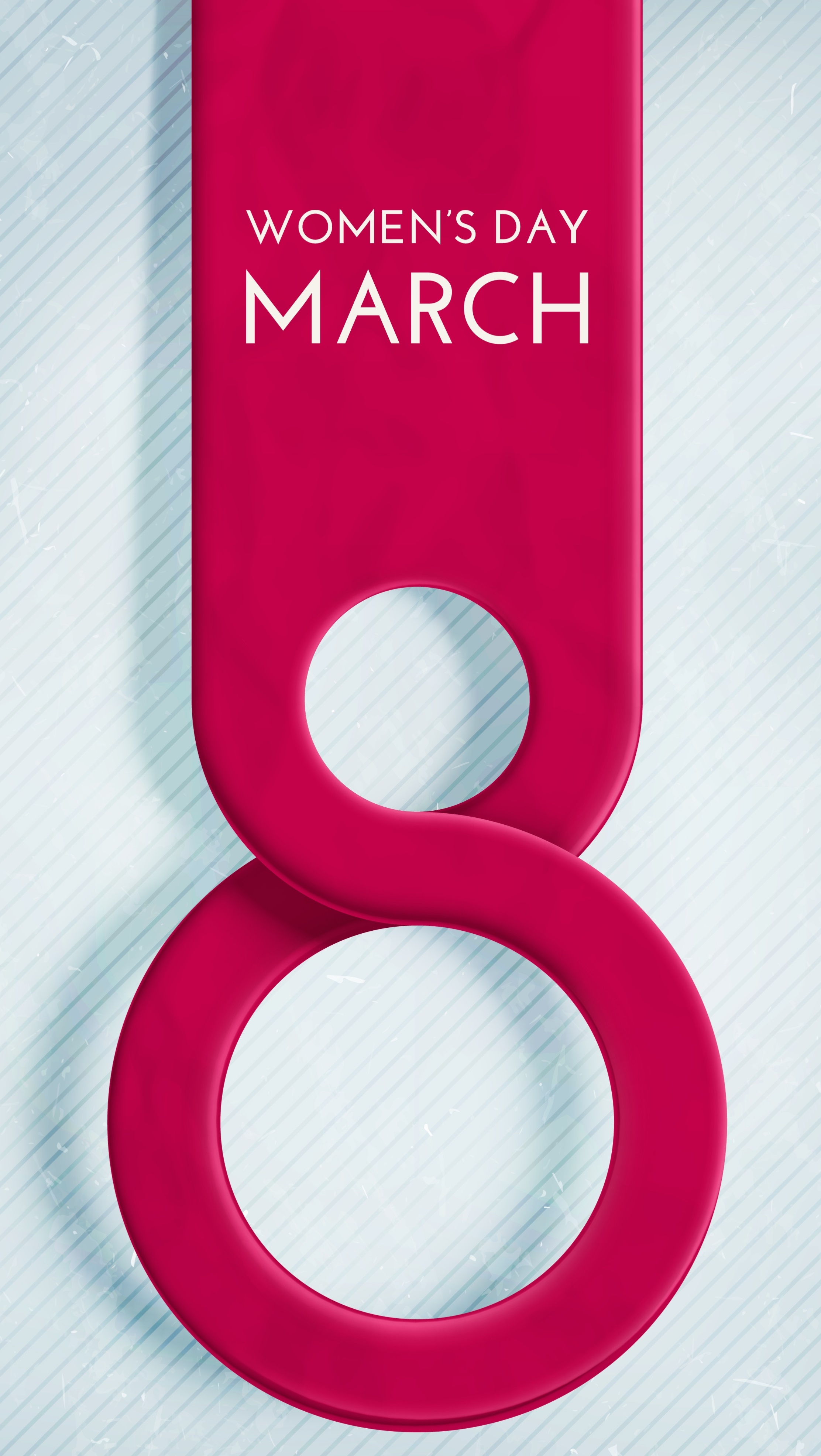 Inspirational, motivational, candid, entertaining, enjoyable and genuine, were all words that formed the very positive feedback that has been received from attendees at the International Women's day meeting co-hosted by PPD and APM Women in Project Management SIG on Thursday 8 March. One of the few male attendees found the event very engaging and left feeling like he had a responsibility to do his part to ensure everyone is treated fairly regardless of their gender.

The speakers were women with careers in law, science, recruitment and manufacturing. Each of the speakers had 20 minutes to present on how they make it happen for themselves and how we can all press for progress.

The Chair for the meeting was PPD's Julia James, and she summarised the speakers' key messages into four categories:
Be authentic
Proactive adaptability 
Be persuasive
Help!
Be authentic - Be yourself and believe in yourself. Give yourself the opportunity to know and understand yourself.  Define your vision of success, as it is different for each of us. You are what makes you great, so be true to yourself.

Proactive adaptability – Make the most of opportunities that come your way; but also create your own opportunities. Think outside the box. Sometimes a sideways move ends up in being a step forward. Be open to new possibilities and exploring new avenues.

Be persuasive – Put yourself out there. Be an advocate for your skills and capabilities. Show that you are interested in developing and trying new challenges. Sell yourself and your talents. Volunteer yourself.

Help! – Offer help, ask for help, accept help when offered, and be supportive. Offering help shows respect and nurturing. Being confident enough to ask for help enables others to see your potential and shows humility. When help is offered, accept and reciprocate.  Build your own help network.
Overall, it was a very empowering meeting totally in keeping with a celebration of International Woman's Day 2018.
---
3. Upcoming events


APM National Conference for Women in Project Management 2018
In this its 25th year the WiPM SIG is proud to present the 2018 APM National Conference for Women in Project Management sponsored by BAE Systems, which will be held on Tuesday 25 September at the Grand Connaught Rooms, London.
The conference, which this year explores the theme 'Empowerment' aims to give women who work in all areas of project management the tools to develop a highly rewarding career, create a powerful profile, and empower their teams as respected leaders.
Commenting on the conference Head of Equality, Diversity & Inclusion at VolkerWessels UK and conference chair Hollie Woodard said:
"For many, the Women in Project Management Conference 2018 provides a key opportunity to come together and discuss the prevalent topics of today whilst networking with their peers.  This year's conference highlights just how far we have come in the last 25 years as we look towards empowering ourselves as demand from industry and a levelling playing field opens up new opportunities"
 
Join Hollie and other representatives from leading organisations and inspirational speakers from our profession to see what empowerment can do for you and your projects. The conference is open not just to Project Managers but to anyone that works in project management.
More information and bookings can be on the conference page.
What about you? Get in touch to tell us what you pledged to do and how you are getting on with it.

Let us know via twitter: PM@apmwipmsig      #apmwipm       #WiPM
---
4. Links we like and book review

Each quarter in the newsletter we will include links to articles, webpages, blogs and book reviews of interest to the members of our community. If you have any suggestions, please let us know on WiPMSIG@apm.org.uk
Links we like
Scorecard of the Profession: Africa Project, Programme and Portfolio Management Research Report 2017
Published at the end of last year, this report by Dr. Teri Okoro undertaken through her P3MAfrica initiative, reveals a gender disparity amongst Africa's professionals. Though all have high level base qualifications (higher level degrees), the women are less likely to have PM certification, will undertake lower value projects and earn lower salaries. Women are not well represented in traditional male sectors such as construction, but are well represented in consultancy. Key challenges between men and women also differ with career progression featuring more prominently for women.
Celebrating Women in Project Management with Elise Stevens
From 1 February 2018 Elise has been featuring a woman in PM every day until 50 women have been featured. https://elisestevens.co/celebrating-women-project-management/
Inspiring the Future initiative
Could you spare just one hour a year? Are you interested in volunteering in schools, talking to the next generation about career opportunities?
From what young people are telling us, the key to informing their futures is giving them as many chances as possible to hear and learn from people in the world of work, so sign up for free to help inspire the future. If you're interested in hosting an event at your organisation or simply want to know more get in touch on enquiries@inspiringthefuture.org
Honorary FAPM
Read more about how to nominate a colleague or someone you know who has supported the profession.

Book review
'Lean in' by Sheryl Sandberg
A good read particularly for any women working in a 'man's world' and great for building confidence. It gives an honest view from a woman's perspective. It addresses the pay gap, and it gives examples of how society is still programmed to have the women balance work and kids, whereas the men stroll off to work. For example, films like 'I don't know how she does it' – where it makes it appear like the only way for a woman with kids is able to succeed is by pretty much burning herself out!
---
5. Celebrating success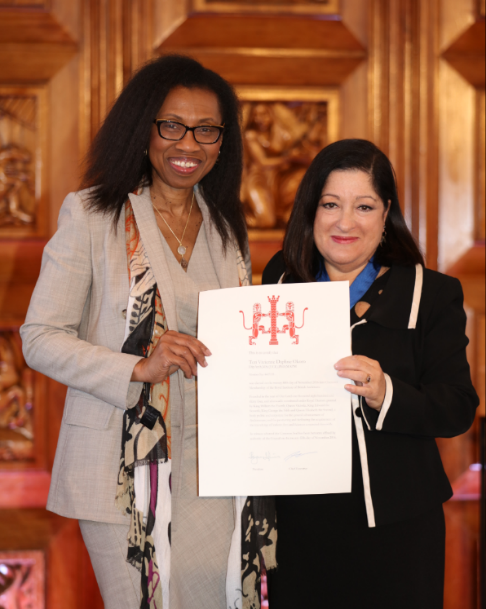 Teri Okoro FAPM recognised for her ground-breaking research, February 2018
RIBA held a formal ceremony on 1 February to award and recognise its Fellows. Teri Okoro FRIBA FAPM a WiPM committee member and past Chair, was one of only forty five RIBA fellow members recognised for her ground breaking research into building in flexibility of use into the design of domestic space, and her activities to promote architecture - particularly diversity and inclusion within.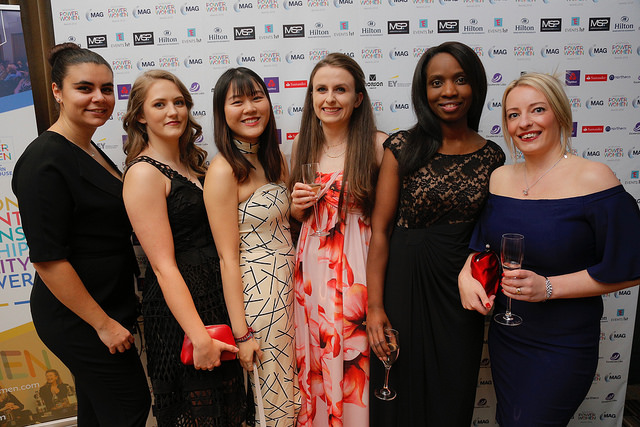 One of our committee members, Hollie Woodard has been shortlisted for the One To Watch category of the Northern Power Women Awards.
What about you? Get in touch to share your achievements and inspire the next generation.
---
6. Follow us on social media

Join the debate, follow our achievements and celebrate your success with us on our linkedIn group APM Women In Project Management SIG or via twitter PM@apmwipmsig #apmwipm

---
7. And finally…
Thank you to all those who contributed to this edition. We look forward to hearing your ideas and suggestions for our next newsletter.

Valentina Lorenzon and Alison Whitehead
WiPM SIG Secretary and WiPM SIG committee member newsletter co-editors