Addressing human barriers to adopting digital technologies in capital projects

Capital projects with digital technologies at their heart have the potential to transform delivery success. Digital technologies – including the capture and analysis of data – allow project teams to make faster and better decisions and in turn, drive efficiencies across the entire life cycle. And yet, successful examples of this new generation of capital projects remain rare. In this article I am sharing with you what I discovered, and I hope we can start a healthy and constructive debate about the 'why?', 'why not?' and 'what's next?'.
In the last decade many capital projects owners/operators and global engineering, procurement and construction organisations (EPCs) have invested in digital project solutions. However, the overall adoption of digital technology is neither fast nor deep – If compared with the expected benefits – and only a small percentage of projects have actually reported tangible value from digitalisation.
The Independent Project Analysis (IPA) (Dec 2020) reports that, "The global capital projects industry as a whole has not appreciably improved the cost and schedule competitiveness of projects for more than a decade [...] The industry has largely been unable to leverage digital tools to unlock efficiency gains that could result in better project cost and schedule performance." In particular, a recent 2019 Deloitte study suggests that construction and mining are behind in terms of digital maturity.
So, what are the barriers to the implementation of digital capital projects? Many have attempted to find answers to this dilemma, using various approaches. To structure the analysis, consider grouping the barriers in three main categories: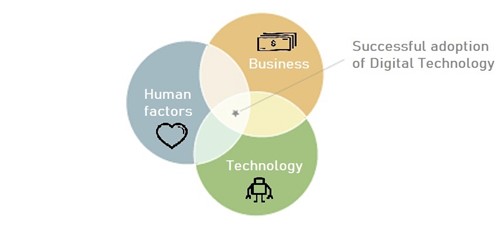 Technology: Adoption and application of new technologies like artificial intelligence, machine learning, Internet of Things, digital twins - all the latest trends. Compatibility and adaptability of existing legacy systems also factors in.
Business: Data silos from (partial) digitisation, perceived and actual cost vs slow return on investment, standards, approved protocols and expectations
Human factors: cognitive processes, behaviour, habits and personal values
In this study from EY and Oxford Economics (Dec 2020) most (79 per cent) of leaders interviewed, believe that digital programs stall in the early phase and the cause is either: lack of skills or talent, lack of budget, poor-quality data or the lack of a strong data analytics function – In other words, a mix of factors. While selecting the right digital technologies with a positive business case is a must, here I would like to focus on human barriers and enablers of digital strategies in projects.
In a capital project setting, the project manager is in a privileged position to positively influence the 'human factor' in digital technology deployment. Harvard Business Review states that "Assembling the right team of people [...] may be the single most important step that a company contemplating digital transformation can take." By analogy, selecting the team in your (capital) project can be the key to success. In particular, the ability to integrate horizontally end-to-end is a key characteristic of successful project leaders and core teams. This leadership characteristic will be particularly useful since most organisations and projects will realise the value of digital strategy through external collaborations – both via mergers and acquisitions, and alliances/partnerships.
More collaborative or integrated project delivery (IPD) contracts are better suited to horizontal integration (over the life cycle of the opportunity) and successful deployment of digital technologies. In this form of contract, both risks and rewards are shared by the project owners and the EPC, and data management is facilitated; this McKinsey paper elaborates on this subject. To date this form of contract is not the most common one and it is not always feasible, but it should definitely be considered in the light of gaining efficiencies through digitalisation.
On a complementary note, the success of IPD contracts will heavily hinge on the ability of the project team to build relation and trust - again a people skill rather than a technical factor.
Independent of the form of contract, it is recommended that main contractors are selected and onboarded in the early stages of the opportunity, so that they can actively contribute to the project definition - which includes addressing questions around the many digital technologies that could bring value for the project. In a cost-driven environment, the budget allocated to digital technologies will be limited, and the expected ROI very high - getting early input and buy-in from diverse parties is critical.
To mitigate resistance to change, the value should be understood and shared by the stakeholders. Like any change, some in the project team may resist the deployment of digital technologies. Often the perception that the technology will increase (rather than decrease) the workload is at the base of such resistance, or perhaps the lack of training in the new technology/tool. Understanding the specific reason for resistance will help the project manager to develop an effective strategy for implementation. Soliciting the team's input on tools to use also helps promote acceptance.
Any capital project needs to strike a balance between short term cost savings and benefits over the life cycle of the opportunity. Therefore, the digital technologies selected will have to address well defined issues/pinch points – digitalisation with an articulated purpose is paramount.
Tracking the project performance with specific KPIs such as increased efficiencies and cost savings in  relation to digital technologies may help the adoption and fine tuning of digital technologies in  capital projects. In some cases, it may trigger a decision to stop or change the use of tooling, an example of 'failing fast' which is equally important.
While there is an opportunity to jointly deliver capital projects more efficiently, the road to success is obstructed by many barriers and pitfalls. Once the right digital technologies are identified and the business case confirmed, the project team will have to work collaboratively, leveraging on common value and using data driven decision tools to make informed decisions. The project manager and the core project team play a key role in enabling a sustainable digital transformation of capital projects.
Explore more useful resources: