Are we failing to optimise how our teams work?

In Autumn 2022, the APM People SIG ran a webinar to explore the building blocks of team integration – at an individual level, team level and as a team in the P3M environment. Our webinar drew on the experience and knowledge of the audience and three experts who use this model in their consultancy work. This blog explores what we discovered, namely where we can improve to optimise our teams.
We welcomed three panellists provided by Association for Neuro-Linguistic Programming: Fiona Campbell, Robbie Steinhouse and Jeremy Lazarus, all experts in the study and practice of neurolinguistic programming (NLP), which is a collection of knowledge and practice that seeks to understand and improve the way people interact and communicate. They explained the Neurological Levels model, adapted below, developed by Gregory Bateson and Robert Dilts.
Put simply, the model defines six interacting hierarchical levels at which individuals, teams and organisations tend to work: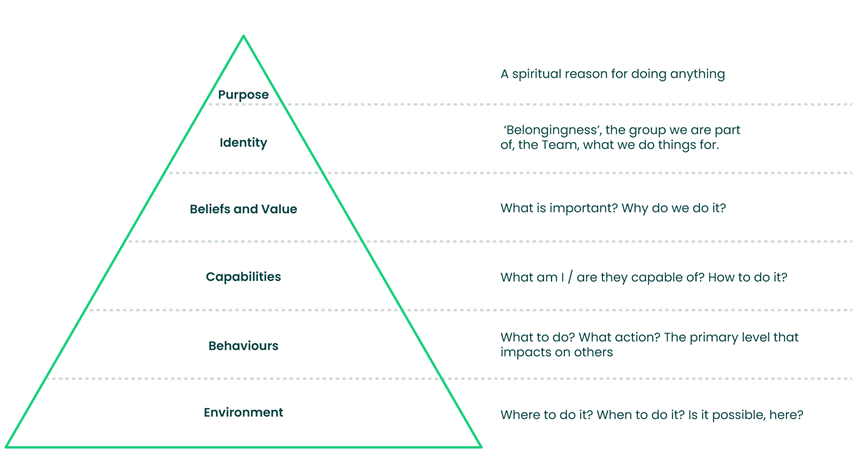 One of the key take-aways from this model is that when a team has a blockage, it's vital to direct any fix to the precise area where the block occurs. For example, if your team/enterprise doesn't have a clear understanding of who they are (identity), the chances are they will not effectively pull together as a team; equally, if everyone has differing beliefs about what can actually be done, how will you ensure 100% participation? When we're not clear on values, our capability and behaviours are affected.
What is different about this model is how the levels strongly interact with each other – and you need to understand what is happening at all of them.
As an illustration, since the 1880s the term 'juvenile delinquent' has been used to describe young people who persistently break the law. One early finding was that those who were involved in such activities (behaviours) often felt they belonged to a different group, perhaps their peers, or some role models (identity) and even held beliefs that may have differed from the rest of society.  The important thing here is that the Neuro-Logical levels model suggests you couldn't effectively change the behaviours without first fixing what was broken at the identity, beliefs, values and capability levels. In fact, some early programmes did this by attempting to tackle this problem of integrating young offenders back into the society from which they felt excluded so they could identify with more positive role models and believe they were capable of being good citizens, thus changing their behaviour.
This model works well within teams and organisations. Some years ago, I was working on a project that was implementing a global financial system in the oil and gas sector. It was needed because at the time Mobil and Exxon were amalgamating, and they had different systems and cultures. It was clear that the management were struggling to get everyone from both huge companies to identify as the new entity 'ExxonMobil' – many people continued to think of themselves as one or the other.
So, the project carved out a new identity to pull everyone together and the Stripes Project was born – which everyone felt a part of, as it neatly sidestepped both the old company identities.
But how do we generally feel about how things are going at each of the neurological level in teams and organisations at the moment? During our webinar we asked our audience six questions. The poll results showed the following: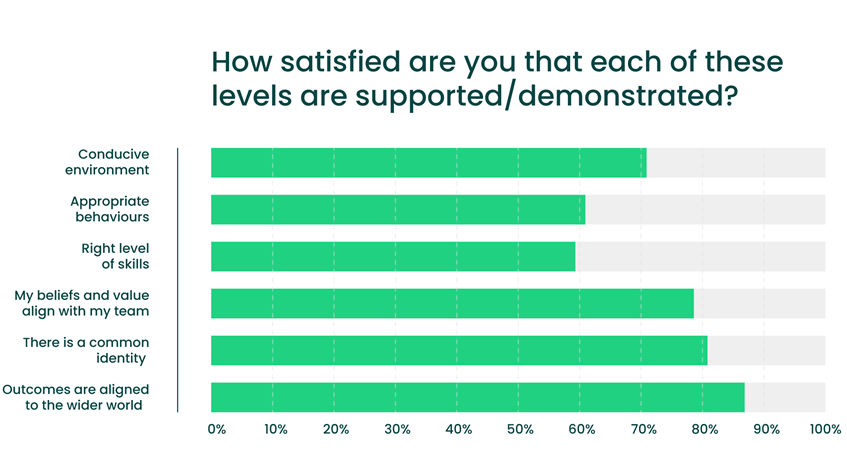 This shows that overall people haven't got problems at the top three levels, identity, values and beliefs, and mission, all sitting over 70%.  Where there was a surprising depression in satisfaction was in the levels relating to a helpful environment, appropriate behaviours, and capabilities within the project team.
Why is this surprising?
The project management sector is strong in the areas of deploying systems and developing capabilities and competencies.  The APM Body of Knowledge 7th edition has a lot of guidance on this. Our poll results suggest that there is more work needed in these lower three areas and they prompt questions such as:
Environment: Are the systems in place the right ones for the job? Are there any issues with a hybrid working environment? Is the time right for this project (whether too early or too late)? It the project team location optimal, or is it too dispersed?
Behaviours: Is it understood what behaviours are expected from the team? How is this communicated and reinforced? Do actual behaviours allow people to work at their best? Do the behaviours flow upwards to promote the beliefs and values we need?
Capabilities: Do people have the right (mix of) skills to do their work? Would additional capabilities make things run better (these could be non-technical, such as conflict resolution, how to give effective feedback etc)?
What can we do?
One question asked by our audience was, 'as some of these neurological levels broadly sit in what might be called the 'culture' of the organisation, how can we (foot soldiers) change things?' It's a really good question.
The first step must be to understand if and where there are blockages in the way a team works – this can easily be elicited by experts who know what to look for and ask. If issues are identified, then there would need to be 'adult conversations' about where, when, and how to direct any interventions. How do team members feel about projects? What are there expectations? Do they feel involved? These questions can help organisations and team leaders understand which level their stakeholders are at.
Project and programme management can be a tough environment with tight deadlines, tight budgets, and hard decisions. Having a team that is closely integrated at all its communication and neurological levels makes delivery more likely to succeed. Conversely, major interruptions to smooth team running can be a major ongoing distraction, and can sap a lot of our energy, leaving less to use on delivering what we are supposed to be delivering. In case you missed the webinar you can find more information and replay the session here.
You may also be interested in: