How can project managers overcome people risks using change management?

When a project needs defining it is worth spending time reviewing stakeholders and their level of risk to your project. Understanding where the resistance starts forms successful stakeholder engagement when you are precise about the various types and moods of stakeholders.
For example, target, where people risk, could form:
Who is likely to resist?
Which groups could object to a change they developed?
Which groups benefit from the current way of working?
Which groups profit from the current situation?
Where is the impact of the change likely to land?
Which groups are ill-equipped to manage?
Whose workloads are likely to surge or decline?
Why is it the wrong or right time to make a change?
Which people's dependencies can block the change?
What is the culture of change fatigue from other projects or programmes?
The APM Body of Knowledge 7th edition explains stakeholder engagement as the systematic identification, analysis, planning and implementation of actions designed to influence stakeholders. So we must take steps to identify who our stakeholders are, then analyse their concerns as to how they could block the project and then plan our approach. Will the change project impact performance in some way relating to people, processes or tools?
Too often the project only pays attention to the technical side of change and doesn't consider the impact on jobs. Yet project managers can usually sense where objections will form, from experience or past projects where lessons haven't progressed with supportive measures.
We must act on these findings before negativity holds back the project; it's important to get individuals on the right side. With good change management techniques, we have a greater chance to turn resistant groups into supporters when we can isolate the problem and tackle it.
To reduce people risk, and engage our stakeholders, we should position change management activities throughout the project life cycle. Prosci's Model, (adapted below) can help us achieve this. The concept follows the ADKAR method: Awareness, Desire, Knowledge, Ability and Reinforcement.
Awareness of the change. This starts by recruiting your Sponsor to explain why the change is needed from a strategic level. This helps people understand the wider picture and provides context for your project and how it supports what the organisation is trying to achieve.
Desire to change then builds on benefits that can be gained. Explain 'what's in it for me' when individuals make a conscious effort to buy into supporting the change.
Knowledge then relays the tools and resources individuals need, based on your assessments to remove the fears or worries using supportive measures.
Ability is about providing the capabilities to try out opportunities for change. We must remember, having the knowledge of how to do something is not the same as being able to do it. There is a distinction between the two.
Reinforcement ensures what has been learnt stays embedded so old habits don't resurface and revert to the old ways of working.
When project management and change management have the same objective, to produce outcomes throughout the change life cycle how does this work using milestones? The table below shows us! When we reach the first milestone, for example, and identify the need for a project, this is when we begin to support the employee through their change journey. Following consecutive milestones, not only develops awareness but it also helps us pinpoint where resistance needs to be removed as the project progresses.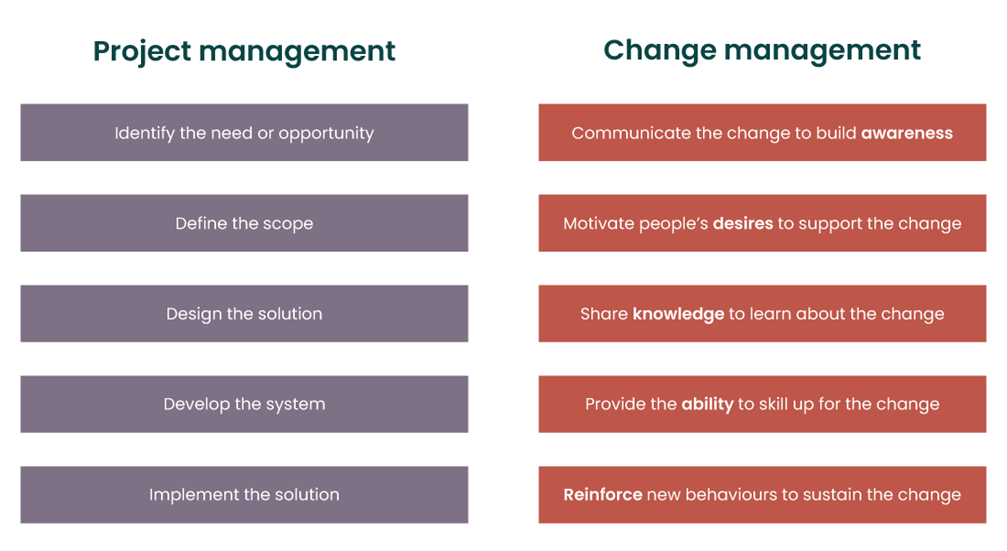 This approach also guides us through the change journey, breaking down complex change using actionable activities. For a change to have an impact it takes planning and shouldn't be left to chance. If we follow the different project milestones, each related change management action provides us with a strategy to achieve the best outcome.
When you can persuade people why change is needed, projects are more likely to succeed. As project managers, we handle quality, time and cost, but if we include change management techniques, we can reach our objectives with higher returns.
You may also be interested in: