Lessons from the Antarctic: a good follower is a good leader

Whilst Sir Ernest Shackleton wrote to The Times announcing his Imperial Trans Antarctic Expedition—more commonly known as the Endurance expedition— it is the almost certainly fictional advert to recruit a crew that has captured the public imagination in recent years.[1]
"Men wanted for hazardous journey. Small wages, bitter cold, long months of complete darkness... Safe return doubtful. Honour and recognition in event of success"
From over five thousand applicants, Sir Ernest chose a crew to join him sailing from London, although William Blakewell joined the ship in Buenos Aires, along with the stowaway Perce Blackborow. And it was not until Daniel Gooch left the ship in South Georgia that the final team was complete. Over one hundred years later, a combination of COVID-19, injury and work commitments led to us, the Antarctic Quest 21 team, being in a similar position; it wasn't until we were on the Antarctic ice that we were alone as a team for the first time. You can read more in the first blog of this series, which explores project goals, team dynamics and social relationships in the challenging conditions of living in confined conditions on the Antarctic ice.
The initial few days and weeks on a new project involves sharing a new office or virtual space, understanding, or implementing new systems and figuring out working practices, much the same as forming an expedition team; on the ice together for the first time, ensuring our equipment works and learning about the new people who we'd live with for the coming weeks or months. The progress of an expedition, with its achievements and setbacks can be compared to the progress of a project. And ultimately the success or otherwise of an expedition and the return home is akin to the end of a project, when the team disperse and move on to new projects and teams.
Not everyone can be a leader all the time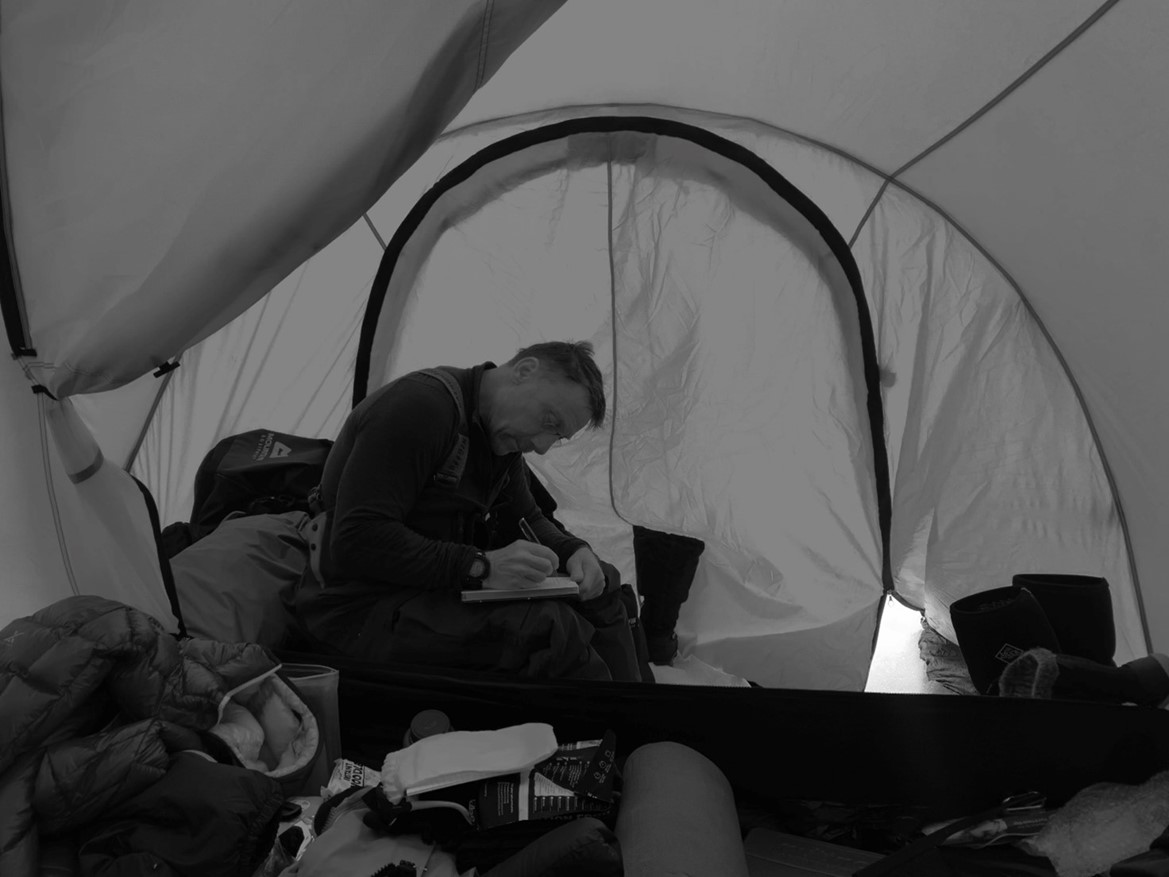 The Antarctic Quest 21 expedition leader gathering his thoughts (Credit, Phil Carrotte)
A characteristic of the storming stage of Tuckman's small-group development model includes individuals finding their role and position in a team. These are often different from formal titles or designated positions, but are associated with social interaction, relative power and status. In the case of Antarctic Quest 21, we are all leaders in our day-to-day roles. Consequently, part of our development was to become comfortable not being in the lead, which on a personal level I enjoyed. Having previously led teams in similar environments I relished the opportunity not to have the pressure of responsibility, and I think this helped me to empathise with the expedition leader. It appeared that others in the team felt as I did, but perhaps some found it difficult when they couldn't make the final decision.
The expedition had a formally allocated leader and deputy, but it was very rare for decisions to be made without discussion, negotiation and on occasion, argument. In turn, this created the need for a mediator, a role which shifted between team members. This decision making by committee has its advantages for the more significant, less time critical decisions, such as how far to continue along our planned route once we became aware of potential problems with our collection from the ice. But when it came to decisions which needed to be made relatively quickly, such as route selection over potentially avalanche prone slopes, discussions were far from ideal.
Leadership vs followership
As a project manager you won't always have a formal position of leadership within an organisation, but there will very often be the requirement to show leadership, to help work through difficult problems and situations. Similarly, there is the need for followership. It may be that the project owner or sponsor chooses a solution which is not one the project manager thinks best. But if the solution meets the intended aim, then the project manager must be a sound follower and support that decision, ultimately working to ensure it is as successful as possible.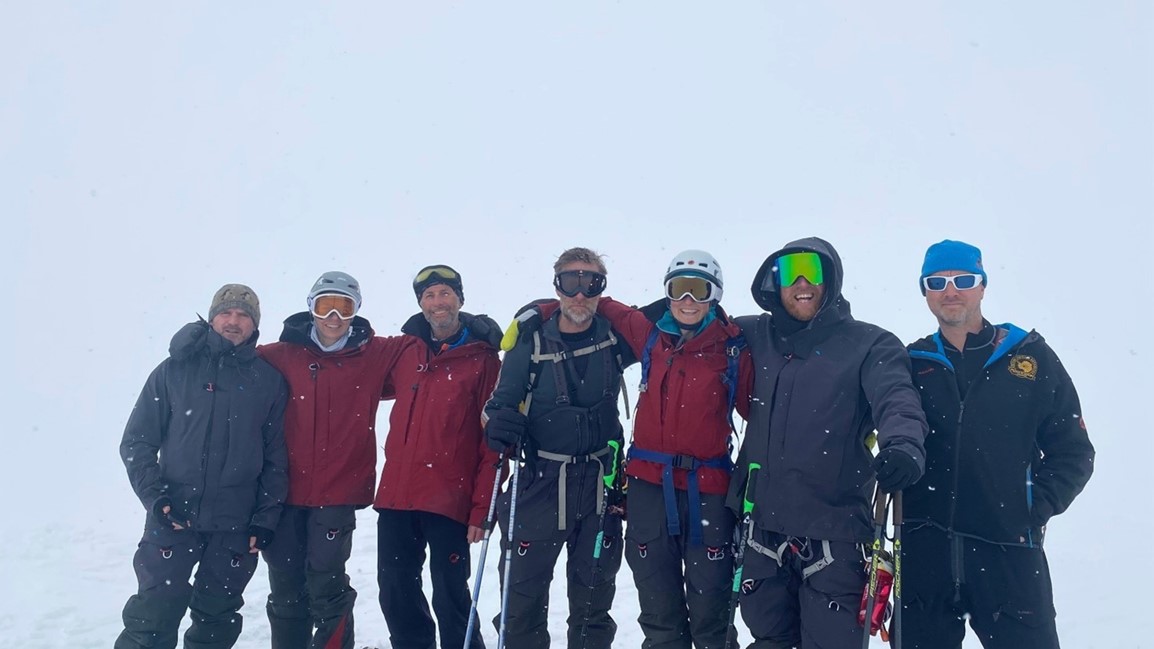 The Antarctic Quest 21 Team, expedition leader missing as he took the photo. Credit, Paul Hart
This is not to say that as project professionals we must blindly follow the exact direction of a sponsor, far from it. Successful project management relies upon expert advice, robust challenge and open discussion; but decisions need to be made and the ultimate responsibility for a decision lies with the sponsor or senior leader taking it. During Antarctic Quest 21 we advised and supported the expedition leader, who had ultimate responsibility for our safety; we trusted that he had our safety as his paramount concern. It was because of this that we could offer our opinions and advice, just as a project manager must to a senior leader or project sponsor.
During Antarctic Quest 21 discussions and debates over route selection, movement during bad weather and management of avalanche risk were open, honest and robust, and usually ended in mutual agreement. On very rare, challenging, occasions the expedition leader made the final decision and the team followed. If we had more opportunities to train together before arriving in Antarctica some of these discussions might have been easier, just as how a project team that has worked together for some time might find decision making smoother. That said, during Antarctic Quest 21 I felt that the very act of discussion was useful, it clarified things in people's minds, and I know that the expedition leader appreciated the opportunity to openly voice their thoughts.
Read the final part three of our Lessons from the Antarctic series.
You may also be interested in:
[1] Schultz C, 2013. Shackleton Probably Never Took Out an Ad Seeking Men for a Hazardous Journey.