A creative community, APM Volunteer Achievement Awards 2020 nominee
APM Volunteer Achievement Awards 2020 nominee:
SIG of the Year


A creative community
The APM Benefits and Value Specific Interest Group (APM BV SIG) has not been defeatist in the face of Covid-19 lock-down. The SIG developed a unique structure, to engage the large number of active volunteers who couldn't all be committee members. We created our community of practice, organised into Working Groups, with APM BV SIG committee as one of the working groups (although with governance responsibility).


This working group structure created enthusiasm, and clarity. It also offered flexibility - volunteers could contribute to whichever working group they wanted at any point, although the focus of the group was stable. We decided that working groups should cover different functional areas rather than industry sectors, which gave us the best cross-fertilisation of ideas.

APM BV SIG has working groups for events, research, thought leadership, practitioner guide publications, SIGs and branch liaison, working with other associations, and the annual conference. Throughout 2019 the working groups has 23 active volunteers, and in 2020 this grew to 27.

A wellbeing-aware community

During lock-down, our committee meetings became busier, and we recognised that people didn't have the practitioner conversations they were used to. In response, we set up Friday evening drop-ins. These are at the time when we'd normally be in our cars commuting (4pm to 6pm) - an ideal time to have a meeting as we're not expected in work and not expected with the family.

We also used our group WhatsApp to check in and remind each other to look after our mental and physical wellbeing. The wildlife sounds recorded by rural members reminded our urban dwellers to take regular mental health breaks and there was always someone willing to talk.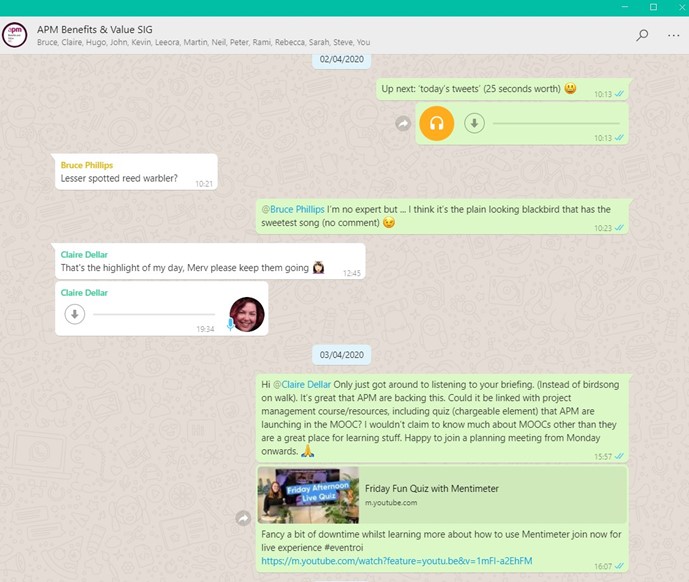 Drop-ins are open to anyone and happen every week - so conversations started one week can continue to the next without losing the train of thought. What started out as a social, has become the main driver for taking the profession forward.

We also moved our committee meetings to the former drive-time (Wednesdays 5pm). This is more convenient, as it doesn't clash with family time, and more people are able to attend. All the committee meetings are open to the whole community of practice.

A productive community

Our working groups have continued to be busy throughout lock-down. The thought leadership WG has run a survey across five webinars, written up the results, and produced a second survey along with the report.


The "A guide to using a benefits management framework" which was published during this APM committee year, continues to be promoted and purchased/ downloaded.

The events team explored options for our annual conference when the in-person event had to be cancelled and changed focus to organising webinars. Practitioner Guides working group continue to meet by phone and zoom, to produce a Guide to Benefits and Value in Agile project delivery.

APM BV SIG was first out of the starting blocks with webinars, organising world-class speakers from exemplary organisations to speak on subjects related to benefits and value management for APM with 17 webinars in the first few months of lock-down, including the series of eight with MPA - "Preparing for projects in a post-pandemic world" .

Meanwhile, we're reading the likely course of the lock-down, and our working group structure gives us the flexibility to be innovative when the opportunity arises to try something different.

BV SIG believes that this is an approach that every SIG could take, especially as the length of lock-down is undetermined.


APM Benefits and Value SIG committee members
APM Volunteer Achievement Awards 2020: other reflection pieces from APM Benefits and Value SIG nominees