APM launches 2018/2019 conference programme

Our profession is turning heads across industry.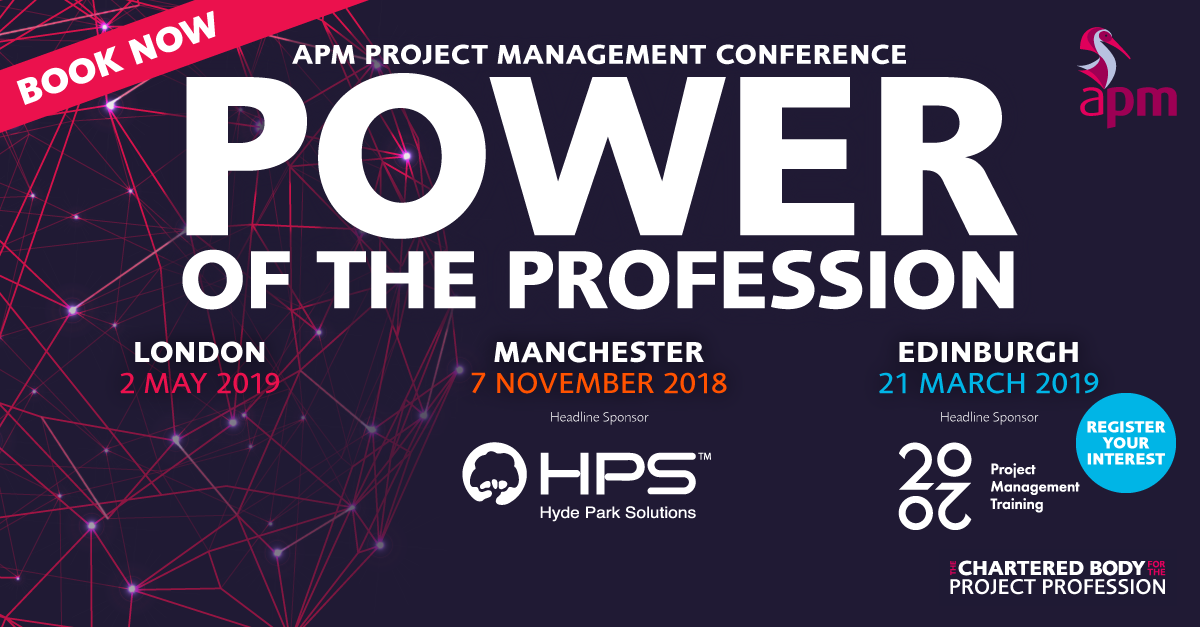 The awarding of chartered status and the mounting demand for skilled project professionals to manage projects of growing complexity and size, have all bolstered the profession's status. 
The breadth and depth of projects we deliver enhance one of the most diverse landscapes of any profession impacting millions of lives; a powerful position for a profession focused on future transition and change in turbulent times.
To harness this power, APM is pleased to launch its conference programme for 2018 – 2019. Delegates will explore the Power of the Profession, a theme that will encompass three of APM's principal conferences, each focusing on different aspects. Delegates will discover how the project profession can be a catalyst for good and is impacting the wider economic and social benefits of our projects, delving into how the profession has transitioned from facilitator to influencer.
The conferences will take place in London, Manchester and Edinburgh and will each feature a rich programme of influential speakers from a variety of sectors and backgrounds, including Chairman for Transport for the North John Cridland CBE, who will provide a keynote address at the APM Project Management conference in Manchester.
---
The programme includes:
APM Project Management Conference Manchester, sponsored by Hyde Park Solutions Ltd.
Power of the Profession: A Catalyst for Good
Date: Wednesday 7 November 2018
Venue: The Studio, Manchester
APM Project Management Conference London
Power of the Profession: Delivering Value in a Transforming World
Date: Thursday 2 May 2019
Venue: Park Plaza Westminster Bridge, London
APM Project Management Conference Edinburgh, sponsored by 20/20 Business Insight Ltd.
Date: Thursday 21 March 2019
Venue: EICC, Edinburgh
---
Commenting on the launch of the programme Tim Banfield, chair of the APM Project Management Conference London, said:
"The impact our profession has had on transforming the globe is growing. Industry and the public sector alike has seen what world-class project management can achieve and every sector is calling for project professionals to deliver their next big project successfully. With growing demand and with chartered status raising the profile of project management, as a profession we face a landscape of both opportunity and challenges.
The challenges of bigger and more complex projects delivered in tighter time and budgetary constraints will force us to work smarter, perform harder as leaders and adapt to delivering a diverse range of projects. The power of our profession is growing: Are you ready to deliver value in a transforming world?"
Bookings for the APM Project Management Conferences London and Manchester are now open. Bookings for the APM Project Management Conference Edinburgh will open later in the year but interested delegates can now register interest.