Finding your PMO mojo following lockdown webinar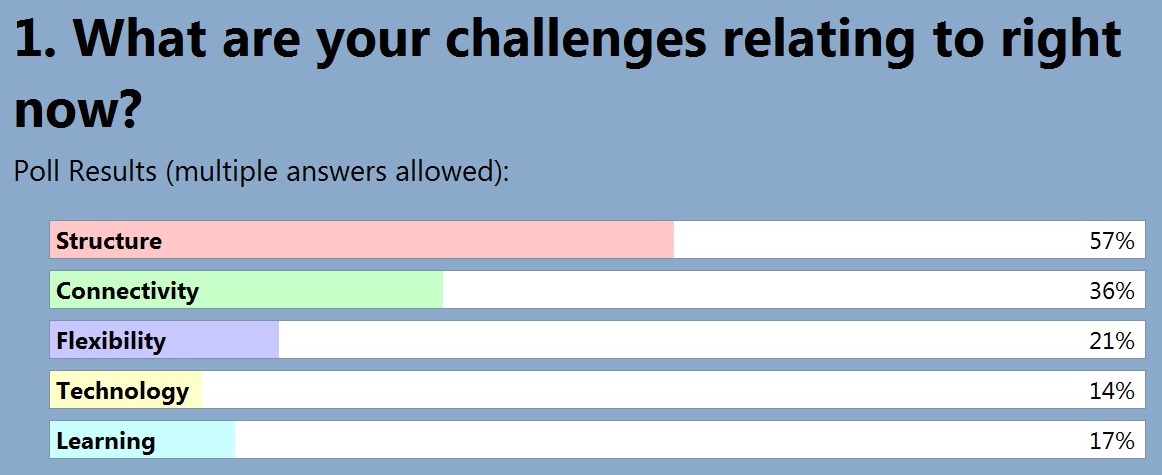 APM PMO SIG webinar held on Tuesday 18 August 2020; Finding your PMO mojo following lockdown, we explored the realities that PMO teams are facing right now and what steps we can take to make our PMO strong for the future of our organisations.
First, we looked at some real-world statistics about the way we work, notably the way that virtual working has impacted out day to day.
According to research by Wrike.com-es, 74% of people would consider a change to a more flexible approach to working, as most cite that their mental wellbeing and work-life balance has greatly improved since working virtually took hold in 2020.
A productivity shift has also been noted by organisations who told weforum.org that the amount of time team members spend talking about non-work topics has reduced from 66 to just 9 minutes a day. 
Although this sounds very positive for both teams and organisations, the new virtual working trend also brings with it some very real challenges for PMO teams:
Structure for delivering governance and assurance is having to change
Connectivity is a benefit and a risk to our human interactions
Flexibility makes it difficult for some to adapt to a new routine
Technology is varied and used in different ways
Learning has increased which is creating 'experts' without experience
Job Security for PMOs is at the forefront of current challenges as organisations morph into the new world
According to our webinar attendees their challenges are largely around: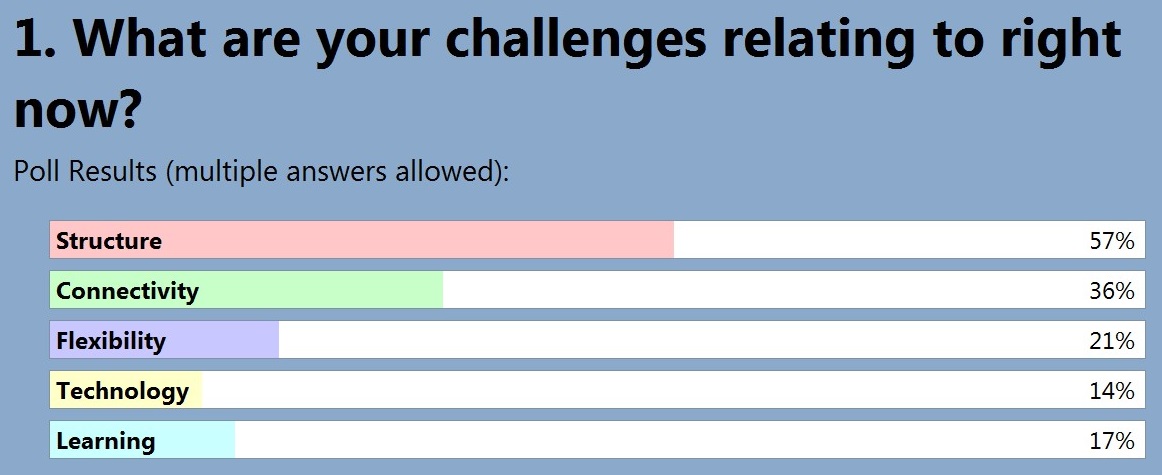 So, what can we do about these challenges?

There are several steps that PMO teams can take now to take a view on how they can adapt to support their future organisations better:
Accounting: understand the landscape of your PMO, what projects and programmes are still going, on hold, or coming up
This is a great time for reviewing lessons we have learned from the pandemic and from projects we have delivered recently, what could we do differently?
Re-define your PMO objectives based on what is important right now for the organisation (and what is likely to be important in the future)
Refine your roadmap based on what you know now, how does it need to adapt?
Continue or set up a community of practice as now is the time when people need people
Next during the webinar, we reviewed the 12 steps for looking at your PMO critically and re-designing your services to support the future of your organisation. Each short video is available at www.PMOninjas.com and during lockdown has provided PMOs with a clear path to getting started.
Based on what the listeners heard, these are the areas that they committed to considering working on with their teams.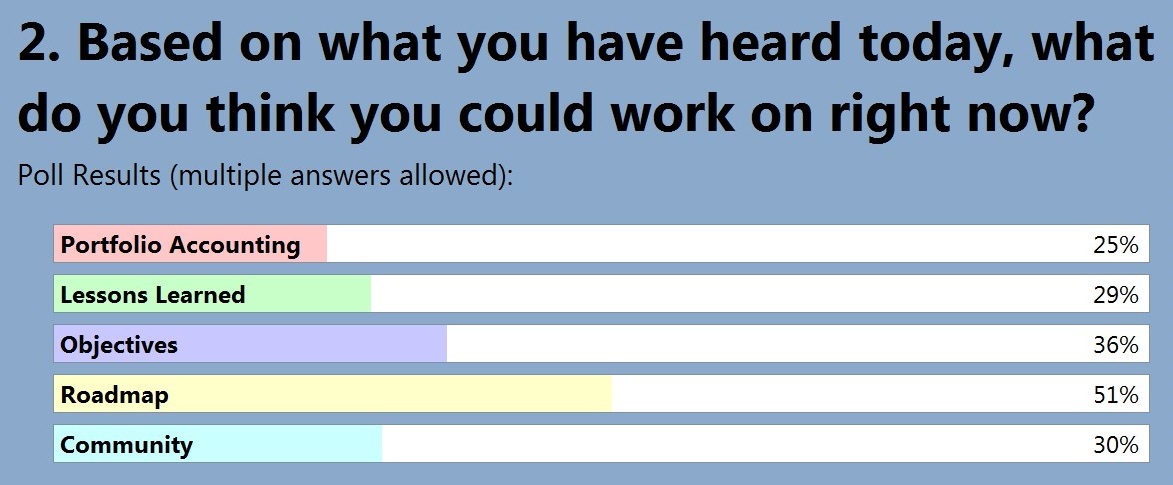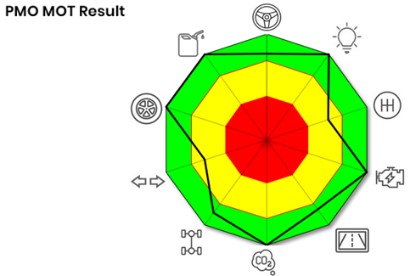 MOT on your PMO. Thanks to the APM, we have been able to share a free tool which PMO teams can use to assess the performance of their PMO, identify areas of strength and areas of opportunity.
Presenter
Emma-Ruth Arnaz-Pemberton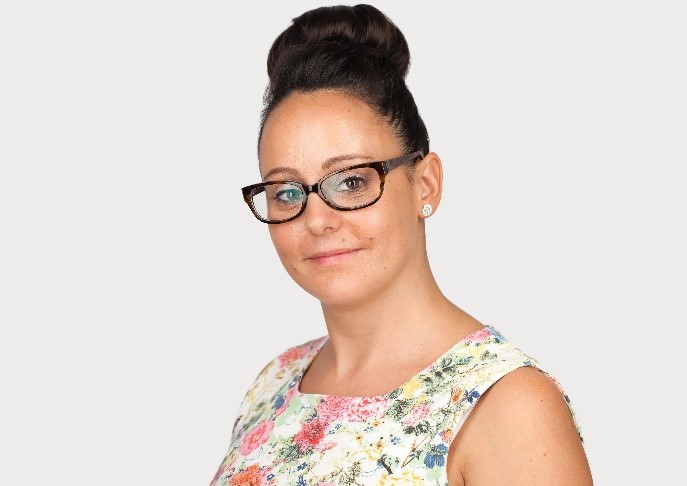 Fellow of the Association for Project Management, member of PMI UK and Spain Chapters, and an Axelos P3M3 Assessor; is a PMO, Project, Programme and Portfolio specialist with extensive experience in the change management industry and a particular focus on collaboration, reminding us that we should be human first and change champions second. She is involved extensively with a number of organisations; notably the Association for Project Management, Project Management Institute, Project Management Without Borders, Project Managers Against Poverty, and PM4Change. Emma-Ruth organises Wellingtone's two flagship annual events; the FuturePMO conference and Project Management Day of Service.
Webinar resources
Emma-Ruth has very kindly allowed her presented material to be made available for viewing. The slides on Slideshare and the webinar recording on YouTube is now available in our APM resources area and also embedded below for reference.

This webinar is suitable for professionals with a beginner level of experience.
Audience questions
Some of the questions received from listeners focused on some key aspects of delivering impactful PMOs:

- How to engage others in risk management
The key is always to get the teams you want to work with to understand your why. Show them the bigger picture and encourage them to get involved in that. Next, make whatever input processes they will need to complete easy to use. And lastly, like with lessons learned, make it part of the day job.

- What metrics can be used by PMOs
The balanced scorecard approach has worked for me for many PMOs. It is simple in that it provides a high level view to Sr Leaders but the detail is there for them to drill down to as needed. Next, consider settings measures in the four quadrants around people, value to business, delivery performance, PMO service performance.
Find out about the history of the balanced scorecard 

- How to start if the PMO is brand new
Start with why. Why did your PMO get set up in the first place, is there a business case, do we understand the context and expectations. Then go through the 12 steps in this webinar to help you to define your service catalogue and begin to draw up your roadmap.


APM Body of Knowledge 7th edition reference

Section
Description
2.2
2.3
3.1
3.2
3.3
Assurance, learning and maturity
Transition into use
Engaging stakeholders
Leading teams
Working professionally