Staff spotlight - Reese Davies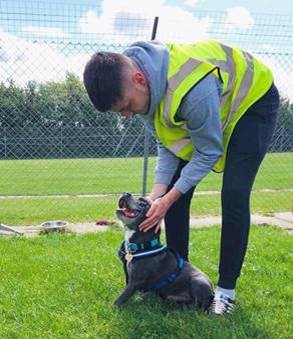 "I regularly help out at Stokenchurch Dog Rescue in my spare time, so I decided to use my annual volunteering day from APM to spend a weekday assisting within the kennels. I have grown up with my family having rescue dogs and although it is sad to see dogs having to be re-homed, I find it really rewarding to spend time with them, helping this great local charity.
"The Dogs Trust* reported that around 56,000 stray dogs were handled by local authorities in the UK last year, many of which had been abandoned by their owners. More than 1,400 of these had to be put to sleep because there was not enough room in rescue centres. Stokenchurch is one of many local dog rescue centres and it is one that will refuse to give up on a dog, whatever background it has come from. As you can imagine this can be a struggle for the centre, as it relies on donations and support from the public.
"When I went for the day, I started off by cleaning out the dogs' kennels (36 kennels in all). Next I helped to get the dogs ready to be walked by the volunteers who come to the centre every day to do this. After that, it was feeding time. During the afternoon, I joined the volunteers who take turns to go and sit in each kennel to give the dogs some company and keep them mixing with humans. Between 2pm and 4pm it was then open to the public to view the dogs and potentially give them a new home.
"One thing I ask everyone to do is to consider getting an animal from a rescue centre next time you want to get a pet. You can even just help out your local centre by walking a dog or donating food, beds, blankets or toys. There are endless different ways you can help! It really means a lot to me that APM supports and encourages staff to volunteer for local community causes close to their hearts. 
"And I have a happy ending of my own. Since helping out at Stokenchurch, we now have a new member of the family, our rescue dog, Ethel. She's a lurcher who, sadly, was abused by her former owners. She has settled in really well with us and has recently discovered how to chew on slippers and shoes! We wouldn't be without her."