Welcome to the Late Spring edition of the APM PMO SIG Newsletter!
Welcome to the Late Spring edition of the APM PMO SIG Newsletter!
In this issue of the newsletter we share some more news about our Machiavellian plans for PMOs to dominate the world (oops, we meant "for PMOs to become critical in the project management world!") and share amazing news about our annual conference and the newly created APM PMO of the Year Award – that's right, we finally made it! Together with information on how to join us as a committee member and all wrapped up with a dose of the hot topics from around the industry, including books you should put in your holidays' to-read list and events you should attend.
If you have any comments on the newsletter or would like to contribute an article to a future edition, please contact us.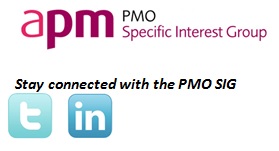 ---
A word from the PMO SIG Chair
Well, what a few months it has been!
Over the years we have been very 'noisy' (annoying) about the fact that there has been no formal recognition for awesome PMOs. A few weeks ago, we secured both a spot in the 2017 and 2018 calendar and sponsorship from Wellingtone Project Management for a PMO of the Year award!
So, get your PMO glad rags on and be ready to tell us your story, your journey, challenges, and what makes you different – let's start shouting about all the good things PMOs do for a change.
Our long term goals have been under scrutiny this quarter. One of the key elements for us to focus on has been the refresh of the Registered Project Professional (RPP) standard. As the first edition of RPP was based on the first edition of the competence framework (CF), it was by default project manager focussed.
Over the coming weeks we will be reviewing and testing the refreshed version so that you can go into the standard with confidence that it's OK to be a project professional and a PMO person. Keep your eye on our microsite and groups for the blog to follow this process.
June has plenty to offer; our committee nominations is under way and you can put your name forward to join the committee to get involved and help us take PMO to the next level!
We are also finalising our annual conference to bring you a pragmatic topic that addresses the key challenges that PMOs face in their day-to-day - from resource management to benefits realisation.
The PMO this year is literally Going Hands On – we've started as we mean to go on with a unique training event on a new to the UK PMO Methodology. You can read more about this and other events below.
 
Read our latest and newest announcements.

---
 What we have been up to
PMO set-up webinar
This webinar was designed for the Microsoft 'Plan, Manage, Deliver' sessions and focused on the things to consider when building the PMO of the future. Tips included understanding the value, ensuring the right people are involved, and considering the type and value of metrics.
This session is available to listen back on the Microsoft Digital Events page.
Is your PMO moving in the right direction webinar
How can you deliver value for your organisation? What does a typical PMO do and what should it be doing? This were some of the questions that our friends at Wellingtone addressed in this webinar, where a PMO Maturity Assessment toolkit was presented and participants were shown key research data to enable them to benchmark their PMO.
EVA22: Brexibility
This month, on a rainy Wednesday our Chair attended EVA22: Brexibility to speak about a real-life PMO journey which included the preparation, strategy, approach, and systems used to mobilise a PMO ready for now and growth in the future. The day included updates from ISO and other qualification organisations on Earned Value, as well as real life control examples from others like UCL. An engaging (and slightly) scary session with a motivational speaker also took place, leading to an unusual delegate-led musical interlude in a conference – one to consider for the future we think!
---
Our Upcoming Events
19 October, London
PMO Goes Hands-On
We are excited to inform you that preparation for our annual conference has already started.
We will provide a small number of speakers with a whole lot of practical workshops that ensure you take something away from the day that you can implement into your world.
With speakers from organisations such as InPhase, Transport for London, PRISM PMO, and Southampton University covering topics such as risk, maturity, benefits, prioritisation, performance management and knowledge management– if your PMO could be better, this is the conference for you. Real PMOs. In practice!


7 December, London
PMOs and Organisational Change
We are joining up with the Enabling Change SIG to bring you some insights into the world of organisational change and how PMO's both affect and are affected by it.
As well as some other secret stuff for now, we are working on three webinars for you this year as well as our continuing #PMOWisdom series, bringing you words of wisdom from PMO people and their supporters from all over the world
---

Marketing
LinkedIn hot topics
Been out of the LinkedIn loop recently? Here are some of the conversations we felt would be valuable if you could give your opinions/experiences.
The Coaching Face of PMO
Emma-Ruth Arnaz-Pemberton
This post following our last annual conference has become more popular in recent times. Missed it? Take a look now.
Top 5 Ways to Secure the Future of your PMO
Marisa Silva
The best way to predict the future is, still, to create it. To help you with such a task, Marisa brings you top 5 ways to secure the future for your PMO.
PMO recruitment: with or without industry experience?
Tony Steele
This one has become a hot potato! With over 240 comments, this is one to check out and even give your view.
---
Little known fact. PMO SIG have the most twitter followers of all the APM SIGs.
Last month we gave away one of our PMO SIG Annual Conference tickets to our 3,500th Twitter follower. The winner is Joe McDwyer, an Operations Manager. We asked Joe some questions to get to know him a little more.
Your experience in PMO? I have no experience of working in a PMO itself. I am an operations manager currently nearing the end of a MSc Project Management course and my dissertation is based on the subject of PMO's as it is an area I am very interested in and would like to eventually work in.
Whilst working for my current company, I participated in a project team with the aim of creating and implementing Project Management processes & procedures for the whole of the UK; which is probably the closest thing I have done to working in a PMO.
How did you get into your field? I have managed large engineering projects such as £1m+ generator repairs on-board various cruise ships and I have always wanted to progress my career more in to project management, as I find it very interesting. This is my reason for completing an MSc Project Management course.
What's the biggest challenge PMO is faced with? From my research, I would say that one of the biggest challenges facing PMO's would be establishing themselves at a high enough level within an organisation to gain the authority and credibility needed to function and influence effectively.
Top 3 things your PMO does for your organisation? My organisation has three types of PMO's: A 'project management office' which is a function of project managers who lead engineering projects and create standard reporting procedures; An IT PMO overseeing all IT projects; and SFP - Sulzer full potential programme - a sort of PMO which identifies, creates and leads business improvement projects linked to the organisations key strategic goals.
What do you hope to get out of following us and attending the PMO SIG conference? I hope to gain some useful information for my dissertation and a better understanding of PMO's as I would eventually like to work in this field.
Keep your eye out for our next milestone and see what you could win!
---
PMO Wisdom Series

Book review
Book: Managing the PMO Lifecycle
Author:  Waffa Karkukly, PhD
Published: 2012 Trafford Publishing
Reviewer: Emma-Ruth Arnaz-Pemberton
Summary
The premise of this book is about it being a guide for all those wishing to know about PMO.
It is indeed a detailed view across the stages required to provide a roadmap of sorts (at the very least an order in which things need to be done) whether or not you are setting up and incepting a new PMO or trying to work on developing an existing function (PMO or not) into one that is more defined and adds more value to their organisation.
Content
A significant part of the book provides data for the reader in the form of an overview of a survey that had been completed with PMOs to try to define the challenges, functions, and benefits of a PMO. Although the survey was completed several years ago now, it is not perplexing to see that not much has changed in the world of PMOs!
The right sponsorship is still key and PMOs are still largely involved in reporting. The challenges are still around adoption and buy-in.
A latter section of Managing the PMO Lifecycle focuses on controversial topics or points of view such as insource or outsourcing of PMOs as well as temporary or permanent offices. I like to think that the topics detailed here are no longer the 'hot potato' as we as an industry have accepted that PMOs differ across industries, organisations, and departments.
The Case Studies section gives an insight into real life companies who had taken a different approach – beware that these companies will have moved on by now. But supported by the indices with roadmap, interaction models, and survey templates, this book provides a fairly comprehensive overview of some of the considerations for setting up or reviewing the PMO.
The disappointing bit for me came around the functions of the PMO and how to select them. For New PMOs this got just one paragraph and for existing, double the words. This is the piece that would help me out enormously which isn't always intuitive or easy that I was expecting this book to drill into. Alas, it remains a guide but not one that I think will answer all the questions.
Conclusion
Well written in an easy to read tone, this is worth picking up when and if you need to look at the steps you need or indeed simply want to learn more about PMOs and their basic make-up.
---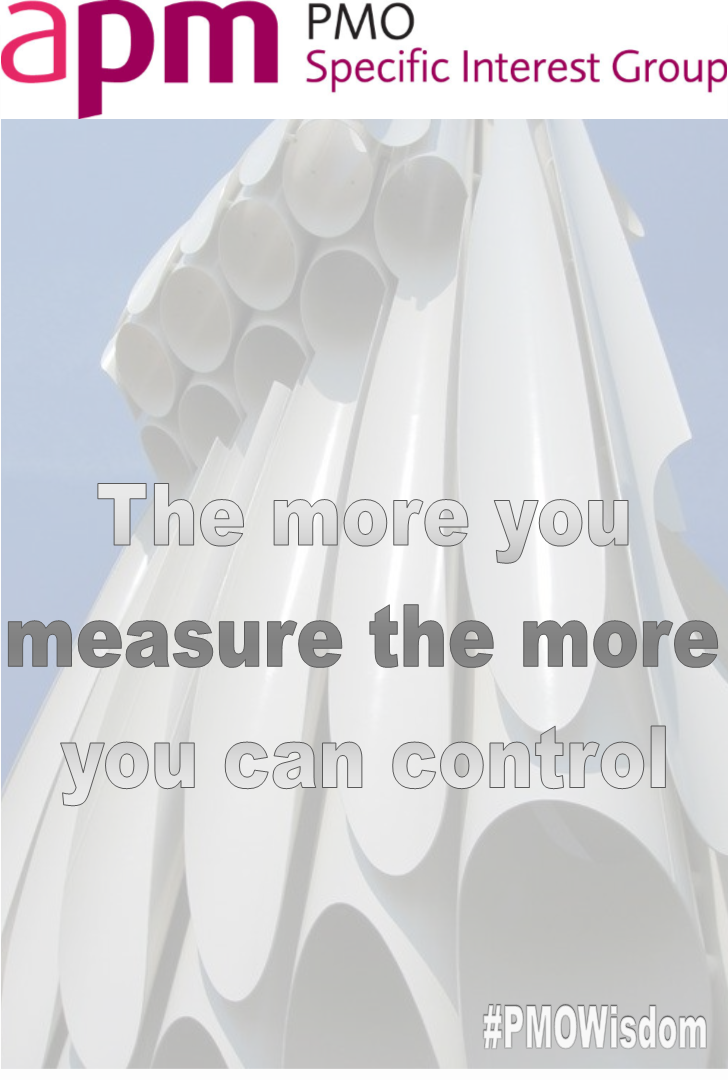 #PMOWISDOM
Interviews
Have you seen our new microsite within the renewed APM website? If you are in the look for great pieces of wisdom for managing your PMO, that's the place to go - you will find all the PMO Wisdom Interviews we conducted so far.

Latest in our series, is Sarah-Louise Earl, PMO Manager at UCL East, the biggest project in the history of the renowned university. Check out our microsite for the audio.

Quotes
All the quotes we collect from you are being turned into #PMOWisdom collateral! Keep an eye on social media for the latest wise words.
---
Events and dates for your diary
Other events we are loving right now:
3PMO Conference, 6 June, Tampere, Finland
Our very own PMO SIG Chair has been invited to attend as a keynote speaker to this annual Finnish event. Emma-Ruth will also be hosting a round-table event the evening before all about PMO, set-up, value, and development.
The APM Benefits Summit 2017, 22 June, London
Our friends at the APM Benefits SIG are putting together a great line-up of speakers for their annual summit. This year, the summit will cover the challenges and opportunities of "Realising Benefits in a Changing World". Certainly one to attend!
The Future PMO, 12 September, Chelsea Football Club
This one-day event has been designed to push the boundaries of your PMO thinking, to look towards the future.  Let's understand the journey of PMO by going back in time to its beginnings, stopping off in our current reality, and finally leaping into the future; to understand and define what to expect for our future PMOs.
---

Volunteering
PMO SIG Volunteers
Our committee nomination is coming up, now is the time to get involved with the SIG who needs new long term goals!
Did you know that every year, the APM SIG's have to go through an AGM process and get voted in? This year PMO SIG are doing their voting online for the first time ever!
Nominations are now open online. They were announced by email in the form of a multi-SIG newsletter on 19 May 2017.
Some questions that may help you to decide:
Didn't know that we are voted in by our members? Yes, it's true you have the power to vote individuals in or out. As long as you are an APM individual member, you also get to put yourself forward for the committee.
Want to get involved? Get in touch with us directly and we can give you all the details you need. Basically though we ask that you only sign up for what you can actually do – it does mean one evening call every month, and a face to face meeting once a quarter on a Saturday. Don't worry, APM pay all of your expenses to get to us!
Don't know what we get up to? Other than thought leadership around PMO, we focus on giving our members lots of interactive elements that will help them develop as individuals and PMO functions. Currently we are putting together some guidance on lessons learned following our Roadshow last year, and developing some awesome events for our member to attend.
What kind of things have we achieved? Well, it's been a big year for us! We have got a PMO of the Year award as a category for 2017 with thanks to our friends at Wellingtone project Management. We are also reviewing the Registered Project Professional accreditation to ensure that PMO can be as successful as those delivering projects. Lastly, earlier this year we ran a unique event with Americo Pinto who introduced a new PMO methodology into the UK.
What do I get if I get involved? Well, kudos on your CV to show that you are not only affiliated but actively involved in your industry. Any events that you are involved in organising you get to go for free so the more you put in the more you get out of your membership.
Becoming a volunteer is very rewarding! With access to like-minded individuals, PMO SIG (and other) events and opportunities to drive the PMO industry forward, it can help to increase your knowledge and expertise and will do no harm to your personal career path!
You will need to commit some of your spare time when you volunteer to be a committee member, but there are plenty of things to get involved with of all shapes and sizes; from contributing to the newsletter to helping to develop best practice and organising events.
If this sounds like you then it starts with just one step, contact a committee member today, and submit your application for the annual committee election in the Spring.
Want to check us out first? Alternatively, you can join as a member to receive news and information on tbe PMO SIG.
Use the link on the APM Website (you may need to login or register first) and click on the "Join this Group" button.