Welcome to the Winter edition of the APM PMO SIG newsletter 2018
Welcome to the latest edition of the APM PMO SIG Newsletter!
In our winter 2018 newsletter you can read about progress in our quest to spread the PMO word far and wide. Also you can check out our upcoming events, and the latest from our #PMOWisdom series.
If you have any comments on the newsletter or would like to contribute an article to a future edition, please contact us.




---
1. A word from the PMO SIG Chair
Thanks to our new committee, we have moved forward this season with several plans. Our 2019 conference is designed and ready for you to book; you can read more about it in this newsletter, and we have worked with the APM Knowledge SIG to begin work on our joint guide on knowledge management; which will include guidance on lessons learned, one of our own dark arts.
We also have a number of events coming up that you should watch out for, we are spreading our wings thanks to the support of the branches.
Last month saw the second year of the PMO of the Year Award at the APM Awards; and winners Ella's Kitchen will be talking about their PMO journey at the APM PMO SIG conference.
Wishing you a Merry Christmas and a Happy New Year.

---
2. Another of our long term goals has been achieved!
Joint APM Knowledge and PMO SIG guide

The first element of the guide is now developed and we are moving onto phase two, to begin to create the detail surrounding how lessons learned fits into knowledge management, and some helpful practical insights into making it work in the real world.
---
3. What we have been up to
Branch evening event PMOs and transformational change
Emma-Ruth Arnaz-Pemberton
November saw the first collaboration between the APM East of England branch and the APM PMO SIG in the form of an event titled "everything you wanted to know about PMOs". The APM PMO SIG Chair took the delegates through the key facts of what makes a PMO tick, the history of the industry, and the skills people need to work in this area that enables delivery success.
You can read more about our evening event with the East of England branch; where the PMO SIG discussed the virtues, people, justification, and need for PMOs.


APM Awards
Osian Evans

This year the APM Project Management Awards were hosted by Natasha Kaplinsky on 26 November. The event, probably the most glamorous and action packed to date, was held in the prestigious Old Billingsgate venue in the City of London with over 650 guests.

The PMO SIG were there in force once again, with the SIG committee and a number of volunteers spread across tables.

The awards evening is an annual milestone for the industry where project professionals are offered the chance to receive the recognition they deserve. Categories for the awards range from Social Project of the Year, Programme of the Year, Project Management Consultancy of the Year, to PMO of the Year.

A huge congratulations to Ella's Kitchen for winning "APM PMO of the Year Award"


Ella's kitchen were announced winners, amongst stiff competition. Their level of maturity and the impact they have had on their organisation really stood out. As well as the cultural elements that they have included in their ways of working, to be seen as more than just a governance function.
2018 really has seen "PMO" as a subject ramp up in the world of project management with the calibre and number of entries for the "APM PMO of the Year Award" increased.

Our next major milestone will be our Annual APM PMO SIG conference on Tuesday 5 February 2019 so watch this space!
---
4. Our upcoming events
Branch event: Everything you wanted to know about PMOs
16 January 2019, Coventry
The Midlands branch have invited the APM PMO SIG to talk about the value of PMO, its key services, and considerations for set up. Bookings are open for your spot in Solihull.


Annual Conference: Love your PMO
5 February 2019, Bristol
Love your PMO conference

In this auspicious month, delegates will be treated to new views of their PMO thanks to speakers from around industry to help them fall in love with their every day, their people and their future.
Enabling a day where delegates can select the sessions that will help them to move their PMO forward, the three streams of the Love Your PMO conference will cover:
Love your PMO people
Love your PMO every day
Love your PMO future
This event is a great opportunity for PMO practitioners to develop both their knowledge and their networking skills, through interactive sessions and a tailor-made day. Our keynote speakers include James MacMillan, Jon Burke and Martin Paver.


Webinar: Love your PMO
12 March 2019
This webinar will follow our annual conference and will re-cap on the salient points from the day and key areas of interest based on feedback. Delegates will be able to get an insight on the tools and skills that people on the day will have learned about, and how to access them.
This will be published and ready for bookings in the New Year.
---

5. Marketing
LinkedIn and blogging hot topics
Been out of the LinkedIn loop recently?
Here are some of the conversations we felt would be valuable, please give your opinions/experiences.
Why Being Smart is Not Enough
An overview from IPMA on how to deal with complex problems and systems, and how to be smarter than the average PMO
Servant Leadership
An insightful view into the servant leadership management style that PMOs can benefit from by Reinhard Wagner
Incorporating Governance into Agile
Does the nature of agile mean that it is not compatible with governance? Read this article from Mike Cohn who explores the challenges and ventures into some solutions.
Emergent Change
Living in a messy change world? This article from Tony Adams might help bring some light into the chaos.
---
6. Social

Are you a tweeter?
This year we have hit our 4,000th follower on Twitter! This is a huge milestone but we want more! Our 2019 conference has moved to February so our new target to hit before then is 5,000 followers – share our twitter handle @PMOSIGUK to help us get to that number and you might win a prize!
---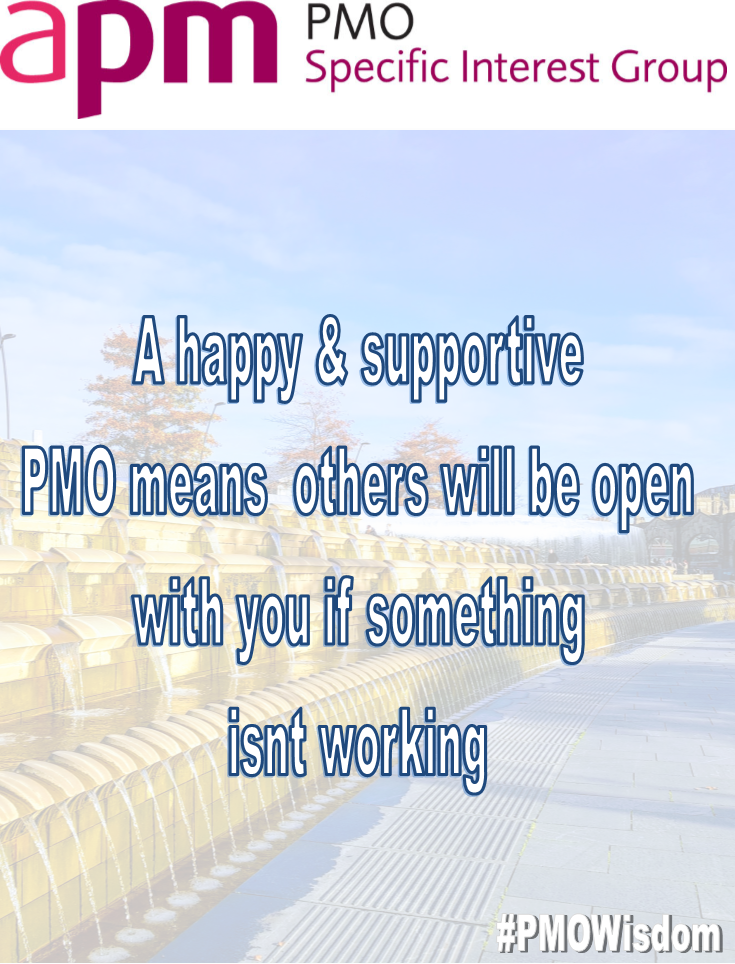 7. PMO Wisdom Series
For this coming year we are looking for more interviewees, so if you know someone who has wisdom to share, do get in touch!
In the meantime, check out our latest #PMOWisdom poster with thanks to Sophie Laverick from SPO Logistics.
Get in touch with us and let us know what advice you would give to others starting out in our industry.
---
8. Book review
Book Title: The Fifth Risk
Author: Michael Lewis
217 pages
Reviewer: John Burke

What happens when a new President wins an election in the United States and has just 75 days to prepare to run the Government of the world's largest economy?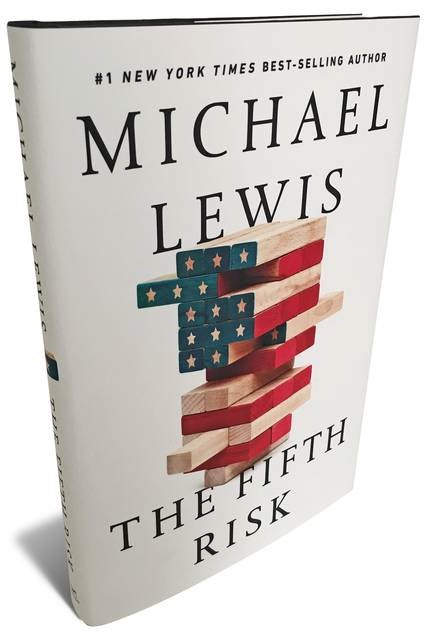 In Agriculture, the funding of vital programmes like food stamps and school lunches is being slashed. The Commerce Department – whose remit includes running the National Weather Service – may not have enough staff to conduct the 2020 Census properly. The Department of Energy, where international nuclear risk is managed, is struggling to ensure it can adequately protect its nuclear stockpile as well as track and locate black market uranium before terrorists do.

The Fifth Risk of the title is from a conversation between the author and a soon-to-be-unemployed senior official in the Department of Energy – project management; the ignorance, disregard for details and lack of curiosity on one hand is counter-balanced by unsung heroes who care deeply about their jobs and the role it plays in Government. The attention to detail and level of planning among those who are about to be made unemployed is remarkable – they want their replacements to succeed because they know their work will unwittingly impact millions of American's daily lives.

Whatever your politics, this is a book for project managers of all types that just might have you cheering for the underdog one minute, and smacking the palm of your hand on your head as you scream "Doh!" the next.
---
9. Volunteering


PMO SIG Volunteers
Want to join the SIG as a volunteer? Get in touch!

Alternatively, you can receive news and information on the APM PMO SIG. Login and use the link on the SIG microsite page, "Join this Group" button.