Welcome to the summer 2020 edition of the APM Governance SIG newsletter
Content
Despite the Covid19 lockdown, the APM Governance SIG has remained active. Good governance is even more prominent as organisations respond to the challenges of the pandemic and review strategic objectives and things taken for granted previously.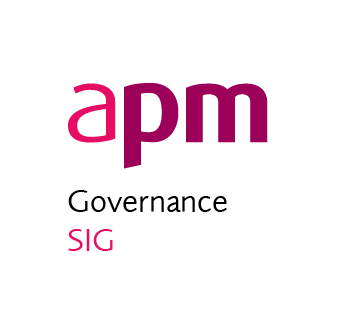 role of sponsor in April – the overwhelming feedback was that the audience hadn't realised the APM had such a rich source of material on the subject. We obviously need to make more noise about it.

Our guides on good governance can also be found on the APM website and are free to download for APM members:
Additionally all our blogs on governance and sponsorship can be found on the APM site and on the Governance of Change Linkedin site. Also, our latest article on The 10 Golden Rules for Good Governance is available now on the APM Hub and a summary version as an apm blog.

We have recently carried out a survey of directors and sponsors and have now analysed over 100 role responses. We will be sharing the results of this survey shortly as part of a series of webinars we are running on the sponsor role and sponsorship during July:
Thursday July 23 (17:00 to 18:00): The Executive Sponsor role – panel debate with senior leaders webinar

Thursday July 30 (17:00 to 18:00): The Delegated Sponsor role – panel debate with senior practitioners webinar

Early autumn (to be confirmed): Sponsorship: competency, training and accreditation webinar
Watch out for further details of each webinar to be announced shortly, including more confirmed debate panellist. Please do book to attend.
 

nominate yourself for the GovSIG committee. 

Martin Samphire
APM Governance SIG Chair