Welcome to the Summer edition of the APM PMO SIG newsletter 2018
Welcome to the latest edition of the APM PMO SIG Newsletter!
In our summer 2018 newsletter you can read about progress in our quest to spread the PMO word far and wide. Also you can check out our (and others) upcoming events, and the latest from our #PMOWisdom series.
If you have any comments on the newsletter or would like to contribute an article to a future edition, please contact us.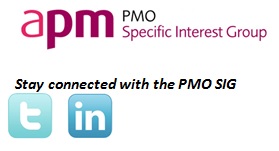 ---
1. A word from the PMO SIG Chair
This summer we welcome the new APM PMO SIG committee, and we want to thank all of our previous committee members who have stepped down for the year 2018/2019 for the time they have given to the SIG and the PMO industry.
In July, the first view of the new APM Body of Knowledge was released and you can read about our experience with the editorial team and the journey to get PMO in the next BoK below – another of our long-term goals achieved!
This year we have decided to move the APM PMO SIG annual conference to our quarter four (February 2019), and you can read about our theme for this year and some other events that will be happening to support it.
Lastly, I would like to welcome the new committee to the team and look forward to working with them from September.

---
2. Another of our long term goals has been achieved!
The APM Body of Knowledge (BoK) is revised on a regular basis, and previous iterations have not included mention of PMO as a term, but instead referred to 'Infrastructure'.
Following the 2018 consultation we are very pleased to say that the new seventh BoK edition will include PMO. When we spoke to the editorial team we explained the importance of having a PMO section that detailing what the 'P' stands for, typical services, variances and their pros and cons.
The next steps include storyboarding which will include an opportunity for all the SIGs to be involved and provide direct feedback before the final version is created.
We want to say a massive thank you to APM for taking this leap of faith with PMO and will look towards some long term objectives for the SIG with our new committee!
If you have any ideas of where you would like the SIG to focus on over the next few years, do join the conversation and get in touch.
---
3. What we have been up to
PMOs and transformational Change
Mark Reeson jointly with APM Enabling Change SIG
You can read about our joint afternoon workshop; where the PMO SIG and Enabling Change SIG tackled transformational change, and the impact it can have on both organisations and their PMO teams. This event was sold out, so we will be running a webinar to cover the afternoon and give you an insight into the discussions.
Lessons learned guidance publication update
The team that put together the initial thoughts have now been joined by the APM Knowledge Management SIG. As both SIGs are working towards a publication, we felt that collectively we would create a more rounded publication if we merged our ideas.
After all, lessons learned is a part of the wider knowledge management conversation and it means you won't have to buy two books!
We will keep you updated on progress, our next steps include a get-together between the two SIGs to storyboard the publication content.
---
4. Our upcoming events - being launched shortly
Webinar: PMOs and transformational change
27 September 2018
Our PMOs and transformational change event held in London this May was very successful, and so this webinar will re-cap some of the key points from the day. With some input from the speakers, they will explore when PMOs are both effecting change and at the same time being affected by it.
East of England branch evening event: Everything you wanted to know about PMOs
6 November 2018
The East of England branch have invited the PMO SIG to talk about the value of PMO, its key services, and considerations for set up.
Annual Conference: Taking PMO back to the people
February 2019, Bristol
According to research, just over 40% of our projects are ran by professional project managers. That means that the rest are 'learning on the job' and in circa 50% of organisations don't invest in training. If we correlate this to PMO people, it is easy to see how people get lost when promoted to their PMO team (maybe set up, maybe transform).
At a new location for us, this year's PMO SIG conference will take PMO back to the people, and through speakers from companies such as Audeo Fortis and BMT HiQ Sigma, will explore what makes a PMO person add the right value for themselves and the organisation.
We aim to provide delegates with a number of tools that they can take back to proactively take charge of their PMO.
Register your interest and be the first to know when bookings open.
Webinar: Taking PMO back to the people
12 March 2019
This webinar will follow our annual conference and will re-cap on the salient points from the day and key areas of interest based on feedback. Delegates will be able to get an insight on the tools and skills that people on the day will have learned about, and how to access them.
---

5. Marketing
LinkedIn and blogging hot topics
Been out of the LinkedIn loop recently?
Here are some of the conversations we felt would be valuable, please give your opinions/experiences.
In case you have been living under a rock and haven't seen it, this month APM welcomes Debbie Dore as the new CEO.
Share your #PMOWisdom by helping out a peer
One of our linkedin members requested some help with their new role to set up a PMO. Can you provide any help or sage advice?
PMO as a Career Path?
Do you think the Project Management and PMO is acknowledged as a career? Join in this conversation to give your views on the APM Blog.
Development of PMO Tools versus People
This post from Chris Hallett got a response regarding the lack of focus on people in the PMO space. What do you think?
---

6. Social
Are you a tweeter?
This year we have hit our 4,000th follower on Twitter! This is a huge milestone but we want more! Our conference has moved to February so our new target to hit before then is 5,000 followers. Share our twitter handle @PMOSIGUK to help us get to that number and you might win a prize!
---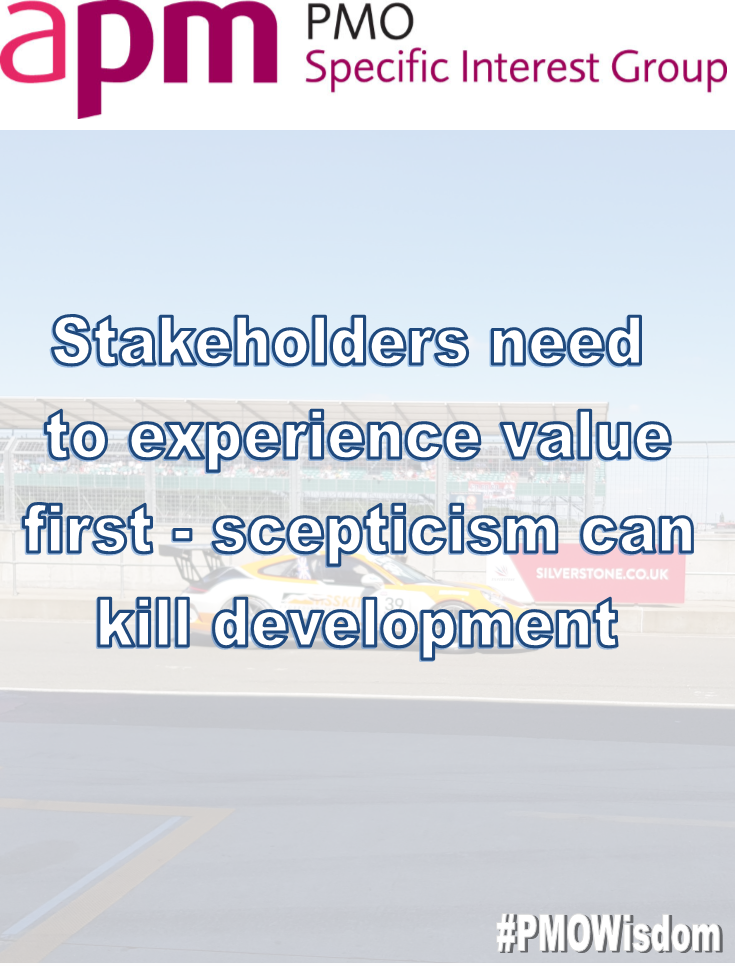 7. PMO Wisdom Series
For this year we are looking for more interviewees, so if you know someone who has wisdom to share, do get in touch!
In the meantime, check out the latest #PMOWisdom poster with thanks to Durr Cynmru Welsh Water.
Get in touch with us and let us know what advice you would give to others starting out in our industry.
---
8. Events and dates for your diary
Other events we are loving right now
Engaging the Disengaged
2 August, Cambridge
An interactive session led jointly by APM and CIPR (Chartered Institute for Public Relations), to explore the impact of good stakeholder engagement and how to achieve this when delivering change. Participants should expect to take away examples of good practice tools and techniques, that support the facilitation of change through effective stakeholder engagement.
PMO Impact Summit
10-23 September, Online
For two weeks beginning on Monday 10 September, Laura Barnard and many other industry experts will come together to help ensure that PMO leaders are positioned to thrive, as you build and run your PMOs. The goal of the summit is to empower delegates with techniques to ensure that their PMO is a key driver of impact realisation, and that business leaders understand and value the contributions of the PMO.
APM National Conference for Women in Project Management
25 September, London
The conference, which this year explores the theme 'Empowerment' aims to give women who work in all areas of project management the tools to develop a highly rewarding career, create a powerful profile and empower their teams as respected leaders.

In its 25th year the APM Women in Project Management (WiPM) SIG is proud to present the 2018 APM National Conference for Women in Project Management sponsored by BAE Systems. 
FuturePMO
4 October, London
FuturePMO is a one-day unique, fun, informative, inspiring and friendly PMO conference that is designed to push the boundaries of your PMO thinking, to look towards the future. The PMO event is attended by PMO practitioners at all levels and it brings together leading experts from across industry to share their PMO knowledge, experience, challenges and solutions.
APM Project Management Conference Manchester
7 November, Manchester
Is productivity the best measure of success? Projects can provide benefits that have a much broader societal impact, explored in APM's Power of the Profession conference programme.
The APM Project Management Conference Manchester, sponsored by Hyde Park Solutions Ltd. will explore ways that the project profession can be a Catalyst for Good and give those working within it the tools to deliver projects, programmes and portfolios that contribute to wider economic and social benefit.
---
9. Volunteering

PMO SIG Volunteers
Want to join the SIG as a volunteer? Get in touch!

Alternatively, you can join as a member to receive news and information on the PMO SIG.
Use the link on the APM SIG microsite page ( you may need to login or register first) and then click on the "Join this Group" button.