Welcome to the Spring 2019 edition of the APM Portfolio Management SIG newsletter
Welcome to the Spring 2019 edition of the APM Portfolio Management SIG newsletter
Contents
Introduction
APM Portfolio Management Conference news 2019
Portfolio Director's Dinner
APM Managing the Portfolio Series: Fourth Thought Leadership Report
PMO Conference 2019 – "Love your PMO"
Successfully Creating a Change Portfolio workshop
Additional branch and SIG events
LinkedIn
Did you see..?
Get in touch
---
1. Introduction
Welcome to the spring newsletter for the APM Portfolio Management SIG. We are gearing up for our conference on Thursday 23 May, and have some exciting news about speaker line up.
---
2. APM Portfolio Management Conference news 2019
We are excited to announce the speaker line-up for our APM Portfolio Management Conference on Thursday 23 May.

The concept of portfolio management is now well established, with general agreement over what the outputs of good portfolio management should be. However, much of the original thinking around portfolio management is based on traditional views of project and programme delivery, and the world has changed.
The C-suite is demanding faster journeys from concept to value-delivery, delivery teams are wanting to work in agile fashions continuously releasing products, and CIOs want to focus on product release rather than project management. So where does this leave traditional portfolio management? How should we react so that we can accommodate these demands, whilst still providing a controlled portfolio that delivers the organisation's strategy? 

For this our sixth APM Portfolio Management SIG annual conference, we will explore these questions through five presentations that will address the Portfolio Life-Cycle, and the challenges it faces in the digital age:
John McIntyre – Head of PMO for Ticketmaster – will open the conference looking at how Ticketmaster does strategic planning and prioritisation within its agile and adaptive portfolio and using its OKR (Objectives & Key Results) goal setting framework.
Simon Harwood – Head of Portfolio Management & PMO (Technical Group) for Direct Line Group – will then look at how DLG resources and delivers their digital portfolio.
Simon Lansdowne – Head of Portfolio Office for NATs - will then share some of the secrets that won NATs 'APM Project of the Year - 2018' by looking at how the National Air Traffic Control provider has raised the overall maturity of its Portfolio Function to provide portfolio-level insights, management and control.
Karina Singh, Director of Transformation, and Annie Wareham, Head of Benefits Management for HM Land Registry - will outline how they manage benefits across their digital portfolio to deliver value early and often.
And finally Mark Lewis, Head of Change & Portfolio for John Lewis, and Ricky Harvey, Portfolio Consultant, will provide an overview of 'The Agile Portfolio', building on the outputs of our Portfolio Directors' Dinner we held in January.
In addition to the excellent speaker line-up, Amplify and SharpCloud are confirmed as exhibitors, and we are really pleased that Hyde Park Solutions are again our headline sponsor.
Tickets are available through the APM website and cost just £125 for APM members and £156 for non-members, and as in previous years, we will have our popular informal networking event straight after the conference upstairs at the Marquis Cornwallis. 
---
3. Portfolio Director's Dinner
It was a cold January evening as 11 portfolio directors and practitioners gathered in the welcoming lights and warmth of Percy and Founders restaurant in London for the APM Portfolio Management SIG's inaugural Portfolio Directors' Dinner. At this dinner the subject was 'The Agile Portfolio: Fact or Fiction' and we focused on three areas:
Explore the experiences of the Portfolio Directors delivering their portfolio functions in organisations that have significant elements of agile delivery.
Discuss the key principles that sit behind agile delivery and portfolio management – are those principles complimentary or in conflict?
Imagine how portfolio management could work in a perfectly functioning agile organisation – what would it need and what could it do?
With the clear goal of understanding the opportunities and challenges of portfolio management in an agile world.
W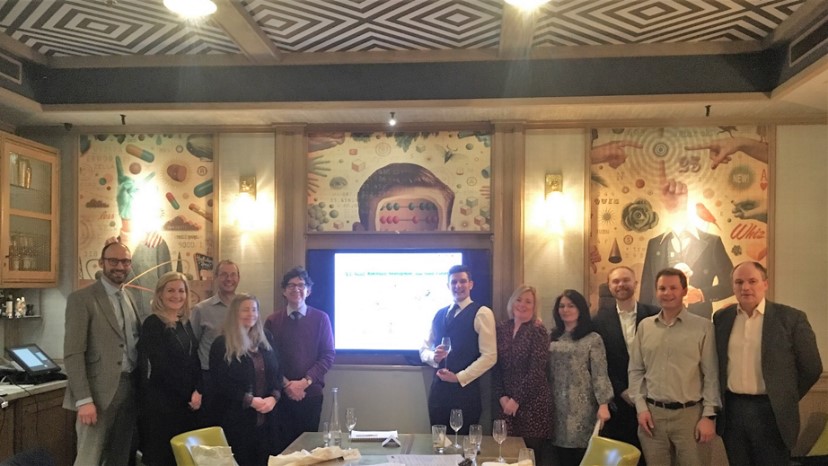 e've captured many of those thoughts in a Thought-Leadership article called 'The Agile Portfolio – Fact or Fiction' and we'll be formally launching it at the Portfolio SIG Conference on Thursday 23 May. It will include insights into which agile principles actively support portfolio management and how to overcome some of the major challenges of delivering the agile portfolio.
---
4. APM Managing the Portfolio Series: Fourth Thought Leadership Report
The 4th and final report in this series Leading and Optimising the Change: six pathways to success will be published during May. Collectively the series of reports step through four key stages of thinking, providing meaningful insight into the practical issues facing leaders of change across all industry sectors. The reports challenge existing thinking and provide a fresh perspective on what makes portfolio management successful in delivering corporate strategy.



The four reports are:
Recognising the need to change: six telling signs – published May 2017.
Making sense of all of the change and gaining visibility: clearing the fog – published May 2018.
Prioritising and compromising: shaping the pathway - published October 2018.
Leading and optimising the change: six pathways to success - published May 2019.
The first three reports are available in the APM resources. 
---
5. PMO Conference 2019 – "Love your PMO"
The APM PMO SIG invited us to present at their conference in February on 'how does a portfolio management office differ from a programme management office.' The session was well attended with lively discussions. Adam Skinner and Steve Leary represented the APM Portfolio Management SIG and started by outlining the extent of potential PMO activities, the audience debating the differing breadth and scope of PMO activities within their various organisations.

Contrasting the APM definitions of programme management and portfolio management highlighted key differences, and the discussions evolved to the topics that support good decision making and how portfolio management and programme management require different approaches. In particular we identified strategic planning and prioritisation as key portfolio management topics, but not required to the same extent in a programme management office.

The session then looked at the different mind sets – 'thinking in lines', where value is more process and methodology driven, more relevant to a programme, and 'thinking in wheels', where value is mainly people and creativity driven, of key importance to portfolio management offices.

Finally we discussed the agile PMO, and how the continuous flow of value underpins agile principles, and discussed what we mean by agile decision making, and also whether we actually do it.

The presentation can be accessed through the APM PMO SIG microsite.
---
6. Successfully Creating a Change Portfolio workshop
The APM Portfolio Management SIG was recently invited to a workshop with the intriguing title of "Successfully Creating a Change Portfolio". The workshop was run by the APM Transport Practitioner Group in collaboration with the Change Management Institute. The workshop featured a keynote delivered live from Australia about IAG's approach to managing change across their organisation, as well as some insights from BA. There was also a "speed dating" session where organisations were able to share their approach and level of maturity with other attendees and hopefully learn a few things on the way!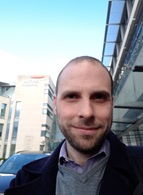 The workshop was held at the end of January at the British Airways' headquarters near Heathrow Airport. Tony Whitmore (pictured) represented our SIG, and made some useful contacts with other organisations represented that we hope will lead to other activities in the future. Thank you to the APM Transport Practitioner Group, the CMI and BA for inviting the SIG and hosting the event.
---
7. Additional branch and SIG events
Following on from the Change Portfolio workshop, there was a meeting with the Transport Practitioner Group, of the APM Enabling Change SIG, in London on Wednesday 3 April to investigate opportunities to work together. Richard Moor and Adam Skinner represented the APM Portfolio Management SIG.

We will be at the APM Conference on Thursday 2 May. Richard and Mike Florence will be on the APM Portfolio Management SIG stand and joining in the conference.
We have been invited by the APM South Wales and West of England branch to their event in September. Petula Allison and Steve Leary will be presenting on portfolio management, and leading the discussion on challenges that the branch members are facing.
---
Join the group and be part of the conversation.
---
9. Did you see?
SIG Committee member Anna Byrne published two great articles on LinkedIn.

"I have set the strategy, why isn't it being delivered?" says the frustrated leader. Clearly there is a disconnect between what is happening on the ground and those that have set the strategy.
Read more in "Aligning strategy with delivery"

Are you seeing the introduction of a plethora of software applications and mobile apps to your business? Applications to manage various aspects of delivery, particularly those associated with agile development. Applications on top of a multitude of spreadsheets used to manage other more business-related projects and programmes. If so, it can be virtually impossible to see the golden thread from organisational objective to front line agile development delivery.
Read more in "When Agile development meets strategy: a practical example"

Watch out for more blog posts from SIG members. If you have a suggestion for a blog post topic, or would like to write one yourself, please get in touch. We would love to hear about what opportunities you are tackling at the moment, and about your passion for portfolio management. Please e-mail with your suggestions.
---
10. Get in touch
We would like to hear your feedback about these quarterly newsletters. Are the newsletters too frequent? Not frequent enough? Too long? Too short?
Please get in touch with any comments or suggestions.

And lastly, don't forget to book your place on our APM Portfolio Management Conference on Thursday 23 May – last year we were full to capacity and had to stop taking bookings!